Help expose Morrison's ABC attacks!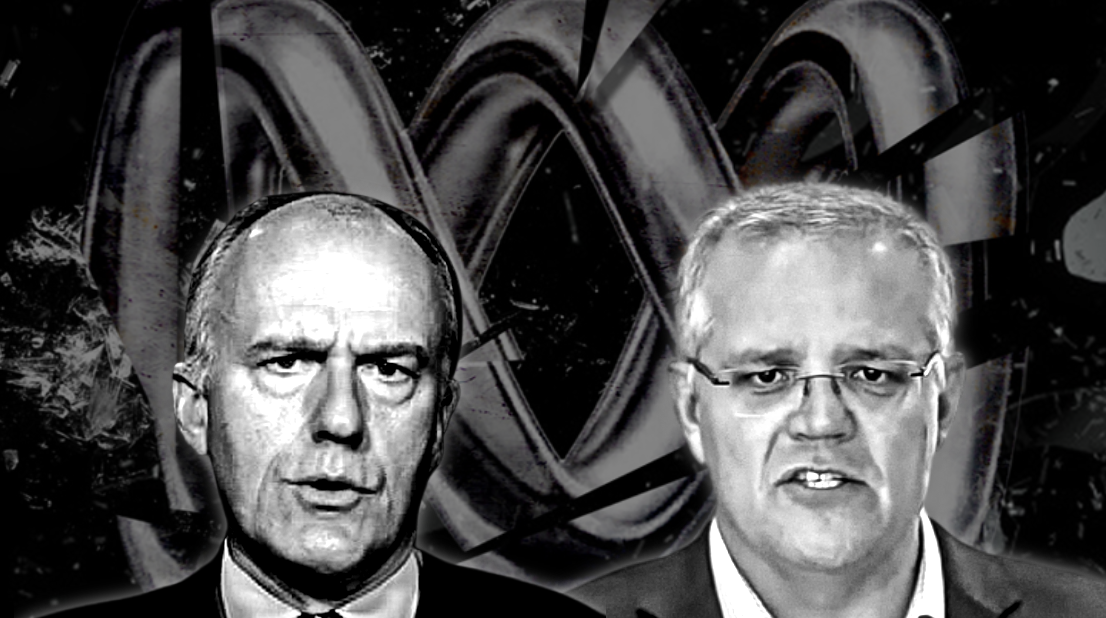 Just 24 hours after GetUp released its report into political interference at the ABC,
Eric Abetz launched an anti-ABC attack in Senate Estimates.
1
It's hard proof of what we've exposed –
the damage inflicted from a decade of Coalition cuts, culture wars, political interference, and even raids on our public broadcaster.
But with Morrison doubling down on the campaign trail, desperate to cover up the years of ABC attacks from his party in the run up to this election, we need to lift the lid on his smoke and mirrors.
GetUp members are the loudest supporters of the ABC in the country – and right now we need to work together to cut through Morrison's lies.
With your help, we can go straight to the voters Morrison is trying to fool – on the ground, on the airwaves, and online – in a massive advertising blitz.
Will you join the 2,348 GetUp members who have already jumped on board to expose Morrison's anti-ABC agenda in the lead up to the election?
With your help we'll launch a
truth-telling ad blitz that cuts through Morrison's spin in the places he's most vulnerable.
While Morrison tries to woo voters in marginal target seats, we'll be there. When Morrison announces his budget in a few weeks time, we'll be there. When he desperately tries to convince the public he's 'good on the ABC', we'll be there.
Morrison is feeling the heat because of our work.
From billboards, to films, to yard signs – we've been there. From by-elections, to town halls, to social media – we've been there. Now it's more important than ever to do it again:
will you chip in to the next stage of GetUp's massive ABC campaign?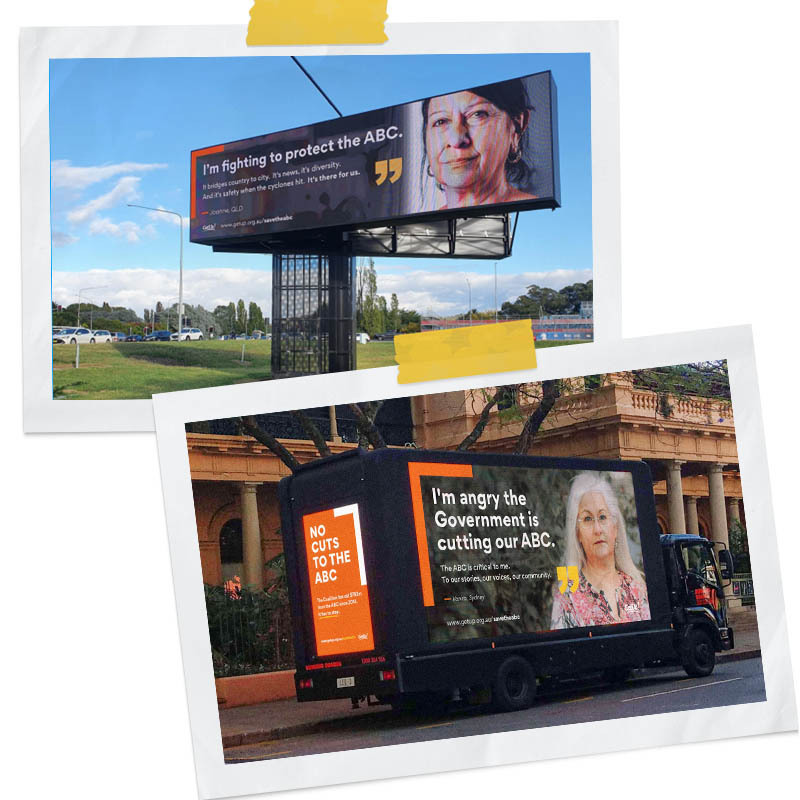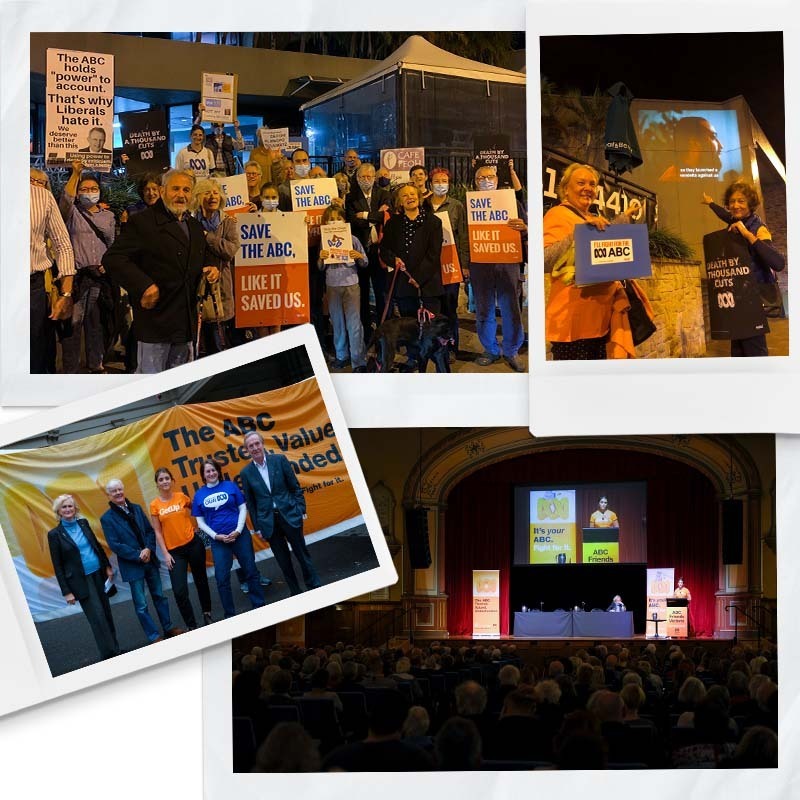 Authored by Walkley-award winning, ex-ABC journalist Quentin Dempster, and Fergus Pitt
this report details the ways the Coalition Government has systematically and relentlessly attacked the ABC – and the risk this creates for the ABC's independence, journalism and our communities.
Download the report
or read it below. Then send it to your friends and family!
On Monday 7 February, the Morrison Government announced the ABC budget for the next three years.2 Here are three things you need to know:

1. Morrison is worried about losing votes on the ABC Morrison is trying to neutralise the ABC as a sore spot for the Coalition in the lead up to the election by covering up a horrific vote-losing track record.

Morrison isn't the first Liberal leader desperate to appease voters on the ABC. We saw it in the final hours of the 2013 election, when Tony Abbott pledged "no cuts to the ABC or SBS" – only to slash $28 million from the ABC in his first budget.3 And before the 1996 election, when John Howard promised to maintain ABC funding, before cutting the broadcaster's budget by $66 million.4

2. Morrison has not restored a single dollar of cut funding to the ABC The $3.3 billion over three years is not extra funding. Instead, Morrison has announced he will simply continue to fund the ABC at current levels – no more, no less.

Here's more detail: In the announcement, Minister Fletcher claimed the pledged funding is "an increase of $87.2 million over the current triennium".5 That "increase" is because the Morrison Government has abandoned a punitive Turnbull 'indexation freeze' – a policy that prevented funding from rising with inflation, and cost the ABC $84 million.7 This cut lead to drastic cuts in programming and job losses, while being consistently denied by Morrison as a cut at all.6,7

This is where we get to the clincher – not a single dollar of Coalition cuts made since 2014 have been restored. From 2014 to 2024 – taking into account Morrison's pledge for the coming years – Coalition cuts will now total $1.2 billion.8

3. Our campaign is working – so we can't stop now! From bushfire-ravaged Eden-Monaro to inner-city seats like Kooyong, GetUp members have made it their business to stand up for the ABC and call out government lies and attacks. Together we're winning the public narrative and making it politically toxic to cut the ABC – proven without a doubt by Morrison's desperate announcement on Monday.

That's why we're ramping up our efforts ahead of the Federal Election to ensure Morrison's spin doesn't cut through. Together, we need to speak directly to the people Morrison is trying to fool – but we can only do it with your help.
[1] Additional Estimates 2021-22, Environment and Communications Legislation Committee, 15 February 2022.
[2] The ABC's budget hasn't been restored – it's still facing $1.2 billion in accumulated losses over a decade, The Conversation, 8 February, 2022. [3] Committed and growing funding locked in for ABC and SBS for the next three-year funding period, Paul Fletcher MP, 7 February, 2022.
[4] See reference 1.
[5] Abbott to break ABC 'no cuts' promise, The Guardian, 12 April 2014.
[6] See reference 3.
[7] Latest $84 million cuts rip the heart out of the ABC, and our democracy, The Conversation, 24 June 2020.
[8] ABC Five-Year Plan 2020-2025, ABC, 24 June 2020.
[9] 'There are no cuts': Scott Morrison rejects criticism of ABC funding levels, The Sydney Morning Herald, 25 June 2020.
[10] The ABC's budget hasn't been restored – it's still facing $1.2 billion in accumulated losses over a decade, The Conversation, 8 February, 2022.
Chip in!
Morrison is trying to fool voters into believing he's a friend of the ABC – but we know better.

Ahead of the election, we need to shed light on the Coalition's continual attempts to undermine the ABC to the very voters he's seeking to trick.

Will you chip in to a massive truth-telling ad blitz, targeting Morrison's voters around the country?