Sign the petition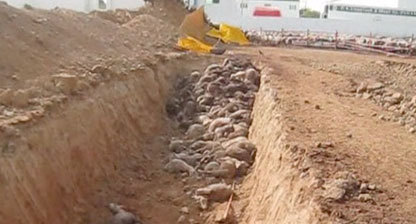 Last night's Four Corners program exposed imagery of terrified Australian sheep being treated in the most grotesque and inhumane ways possible. Sheep that were stranded at sea for weeks in extreme heat and cramped conditions only to be unloaded in Pakistan where they were tortured, slaughtered, rounded by bulldozers and tossed into mass graves.
Even worse, this happened after tough new regulations were introduced to supposedly make the live export industry more humane.
Enough is enough. Sign the petition on the right and tell the Minister for Agriculture, Joe Ludwig, to step-in and prevent this from ever happening again.
For important background information on this issue please click here to visit the 'Frequently Asked Questions' page on the Animals Australia website. We sincerely congratulate Animals Australia for their courage in exposing this tragic incident and continuously campaigning for long overdue reform to Australia's live export trade.
SIGN THE PETITION
Minister Ludwig,

The sickening slaughter in Pakistan of more than 20,000 Australian sheep is completely unacceptable. Not only should Wellard - the company responsible for the lives of the sheep - have its export license immediately revoked, the Australian government needs to commit to ending its flawed live export trade by transitioning to a sustainable and humane means of exporting meat.
---
---
38,989 signatures
We need 261,011 more
---
In taking action, I agree to GetUp's Privacy Policy.