✍️ SIGN: Stop Dutton from eroding our democracy!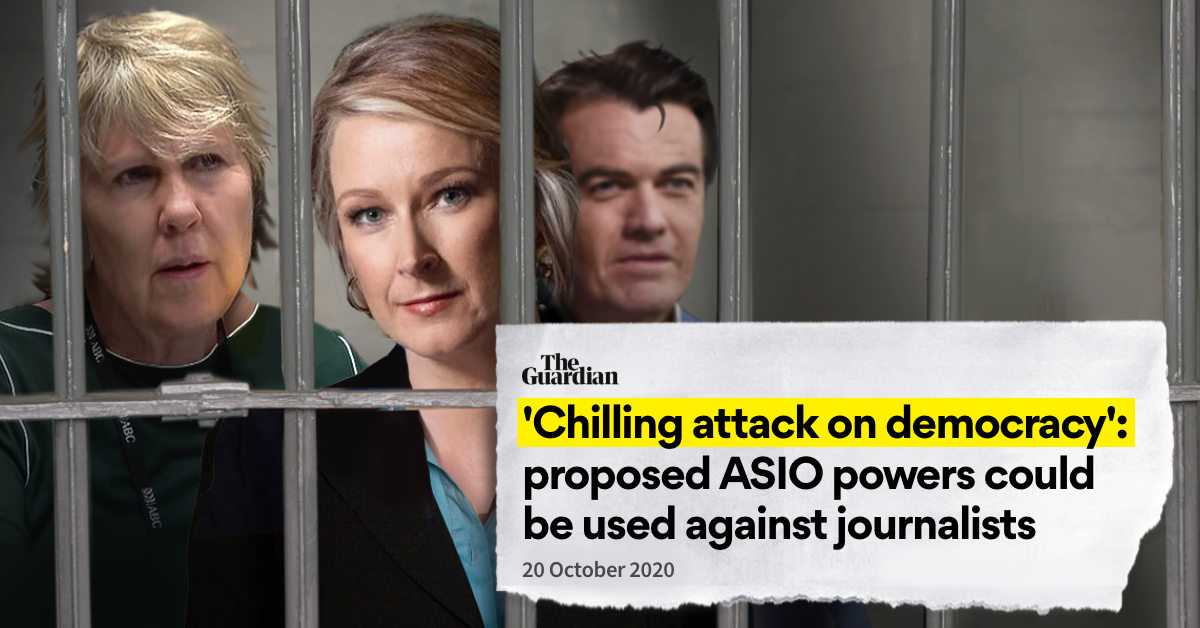 Home Affairs Minister Peter Dutton is trying to ram through new powers for his spy agency ASIO.
He's pushing for changes to laws that would
let his spy agencies track your movements and listen to your conversations without oversight, detain children as young as 14, and prevent you from having a lawyer present.
1
It could see businesses, journalists, and civil society investigated for 'espionage' just for doing their jobs.

Lawyers, experts and politicians from across the spectrum have slammed the proposed changes, calling them dangerous and invasive.2

We can't let this attack on our civil rights be waved through Parliament, and the only way that happens is if we dial up the pressure fast.

Can you add your name to the petition calling on politicians from across the spectrum to oppose these changes?
On 13 May, Minister for Home Affairs Peter Dutton tabled amendments to the ASIO Act which included the following changes:
Lowering of the minimum age of children who may be subject to coercive questioning, from 16 years to 14 years.
Greater tracking and surveillance powers. It would give ASIO the power to slip a "non-intrusive" tracking device into, for example, an open handbag, without external authority or a warrant in some circumstances. This could be done to journalists and whistleblowers.
Limiting access to a lawyer. Proposed limitations on a person's right to have a lawyer of their choice present during questioning, and an ability to remove lawyers from questioning sessions if deemed "disruptive".
Expanding the powers of search and seizure available to, or for the benefit of, ASIO in connection with questioning warrants.
Going beyond terrorism. Broadening the types of ASIO cases that could trigger questioning warrants, allowing them to used in relation to espionage, politically motivated violence and acts of foreign interference, rather than just in relation to potential terrorism offences.
The bill was referred to the Parliamentary Joint Committee on Intelligence and Security and the community is still waiting on their report and recommendations. This committee only includes politicians from the major parties and is chaired by Coalition MP Andrew Hastie.
GetUp members chipped in to obtain independent legal advice investigating Dutton's proposed changes, and how we can stop them.
Here's what the team of top barristers found:
Peter Dutton's push to expand ASIO powers would have a chilling effect on press freedom, journalists ability to do their job, and intimidate whistleblowers from speaking out.
Journalists aren't provided any protection under these laws and could face five years jail for refusing to reveal their sources.
The advice specifically warns these laws would have a "chilling effect on the willingness of people to speak to journalists about issues of political significance…. [and] a decrease in media coverage and reporting on those matters thereby inhibiting public debate".
ASIO's powers would be so far-reaching that they could be used to clamp down on civil society organisations and political advocacy groups, including environment, human rights, and refugee groups.
Legal experts say this could "undermine the important role played by civil society organisations in holding government to account".
The proposal to lowering the age of questioning from 16 to 14, and powers that would be given to ASIO to interrogate children as young as 14, would be a breach of Australia's international obligation under the Convention on the Rights of the Child.
These changes would make Australia a world leader in state-sanctioned tracking of citizens and coercive questioning powers - going further than any other Five Eyes country.

Politicians from across the spectrum should listen to legal experts and block these dangerous changes from becoming law. But first, they need to read it. Help send this legal advice to those who need to see it most.
Not loading on mobile? You can also read and download the full advice here
[1] Asio could question children and more easily use more tracking devices under new powers, The Guardian, 13 May 2020.
[2] Legal bodies concerned by Peter Dutton bill allowing Australian spies to question 14-year-olds, SBS, 13 May 2020.
SIGN THE PETITION
Minister Dutton's proposed amendments to give ASIO far-reaching powers is a dangerous move.

We call on politicians to oppose these amendments.
---
---
115,654 signatures
We need 4,346 more
---
In taking action, I agree to GetUp's Privacy Policy.