This isn't Morrison's democracy – it's yours.
Scott Morrison has announced an unprecedented crackdown on protests, boycotts and "disruptive" strikes.1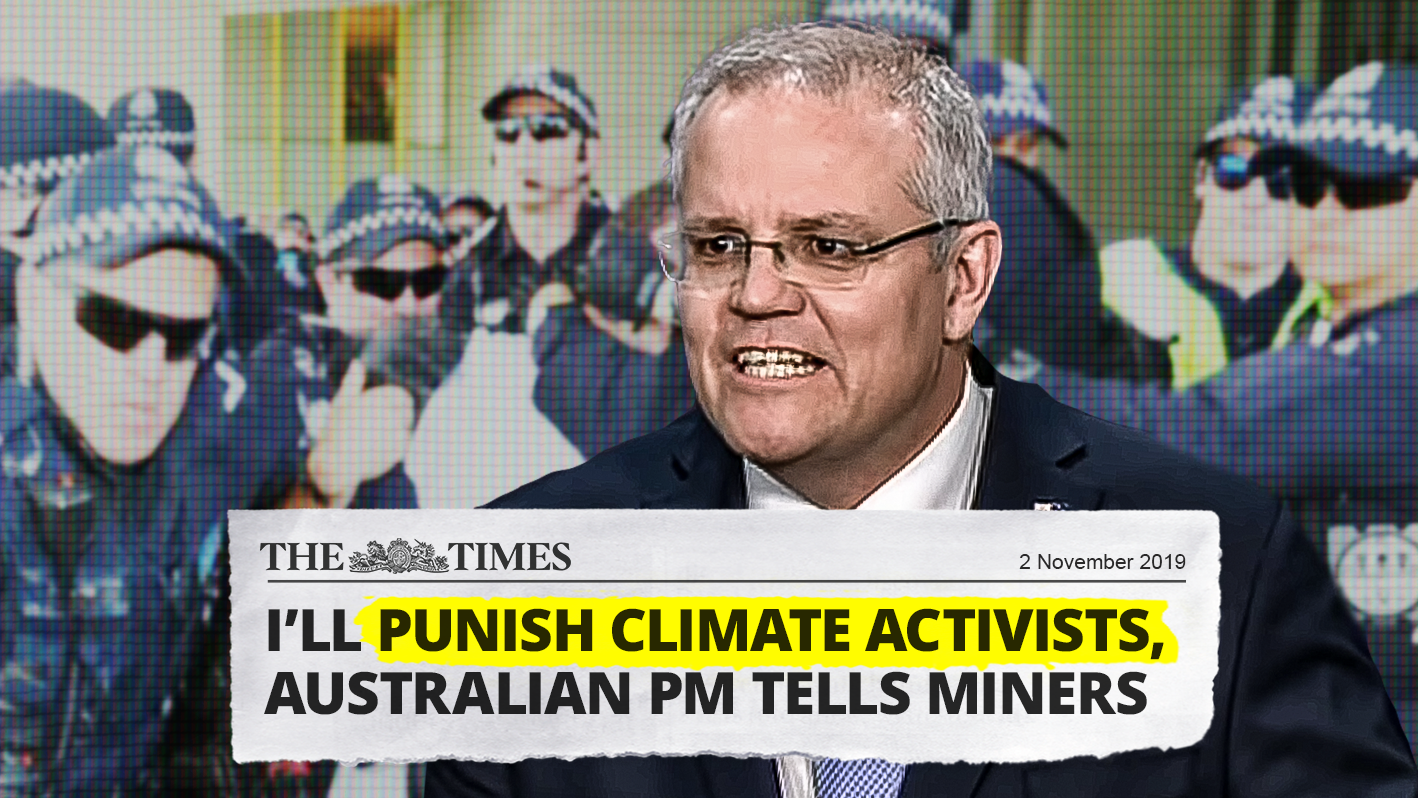 Morrison wants to start a culture war that pits jobs against climate – because he doesn't have a plan for either.

But this isn't his democracy – it's yours.

These laws would stifle our ability to agitate for a livable planet. We need to challenge them in parliament, in committee hearings – and in the High Court if we have to. But that'll take some of the countries best barristers, as well as a coordinated public campaign to protect the rights of climate activists in all their forms.

We also have to fight back against Morrison's narrative by working with regional communities – listening to people's concerns, championing local solutions, and building a shared vision of the future.

Can you chip in to defend our right to fight for the issues that matter most?

References: [1] Scott Morrison accused of attacking democracy over vow to outlaw environmental boycott campaigns, The Telegraph, 3 November 2019.
This is an unprecedented expansion of authoritarian power, that would:
Threaten the rights of farmers to organise against fracking of their groundwater.
Prevent boycotts of corporations who enable climate vandalism or human rights abuses.
Silence Traditional Owners who are mobilising to protect their land from gas companies.
Put an end to the school strikes – for good.
Morrison has spent the last six months trying to silence his political enemies – raiding journalists homes, the ABC offices, clamping down on unions, and de-funding independent bodies that dare criticise his agenda.
If we don't win this fight, we may not be allowed to fight the next one.
With your support, here's what we'll do:
Defeat authoritarian attempts to silence dissent and protest: We need to protect the rights of farmers, workers, first nations communities, and students to take action. This is a fight that'll start in the halls of parliament, but could end in the High Court – and we need to be prepared to do whatever is necessary to protect the rights of GetUp members and the broader climate movement.
Build power and relationships with regional communities: We need to end the culture war that Morrison is trying to start, by listening, and building genuine connections with communities that have been neglected by both sides of politics for too long.
Create a bold new climate strategy, modelled on a Green New Deal: We need to consult with workers, first nations leaders, and frontline communities and develop a climate strategy that answers their concerns. We need to work with leading researchers to develop solutions that solve the interconnected crises we face: insecure work, inadequate pay, industries in transition, a lack of housing and public infrastructure and climate change.
Can you chip in?
This unprecedented expansion of authoritarian power could see an end to the climate movement as we know it.

This is your democracy – not Scott Morrison's. Will you chip in to defend it?