Email Labor's Anthony Albanese and Chris Bowen
We have an urgent window to demonstrate the massive public concern on climate to Labor, as key decision makers meet this Friday to set their climate policy.
With Prime Minister Scott Morrison trying, but failing to unite his party behind a new 2030 target, Labor can seize the opportunity to show the courage and vision that voters want to see — and protect our communities from catastrophic climate damage.
Will you email to Labor leader Anthony Albanese and shadow climate minister Chris Bowen, demanding they set strong 2030 targets for fast climate action?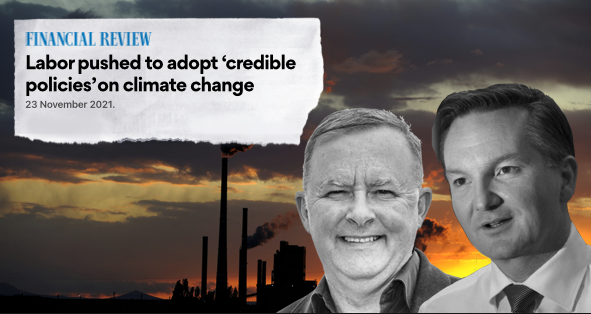 The Glasgow Pact calls for countries to return in 2022 and set stronger 2030 climate pollution targets to limit warming to 1.5°C.1 Australia's next government will be accountable for this.


140 countries strengthened their targets for Glasgow, but the Morrison Government failed to.2 Labor have the opportunity to be bold and lead.


NSW and South Australia have both set targets to reduce emissions by 50% by 2030.3 And even the Business Council of Australia has publicly backed a 50% target.4


We need a national plan to slash climate pollution by 2030, with strong targets that at minimum match the United States, the United Kingdom and other trading partners such as the European Union and Japan.
Introduce yourself: Tell them a bit about yourself! Where do you live?


Talk about why you're concerned about climate change: Make it personal. Talk about how climate change will affect you, your fears for increasing weather events, the opportunities you see in renewable energy, your children's future or whatever your reasons for wanting to see strong action to cut climate pollution.


Ask Albanese and Bowen to set a strong 2030 target. Let them know that climate damage is here, now and we need action this decade. Let them know that voters will reward them for strong leadership!
[1] 'Nations reach climate deal at COP26 after compromise on coal, ABC News, 14 November 2021.
[2] 'COP26 has wrapped up in Glasgow. So was the climate summit a success?', ABC News, 14 November 2021.
[3] 'Emission pledges by states put extra pressure on Scott Morrison to lift national climate goals', ABC News, 29 September 2021.
[4] 'Business Council of Australia calls for ambitious short-term carbon emissions reduction target', ABC News, 9 October 2021.
Demand Labor set ambitious climate policy for this decade