Tell your local candidates you want climate leadership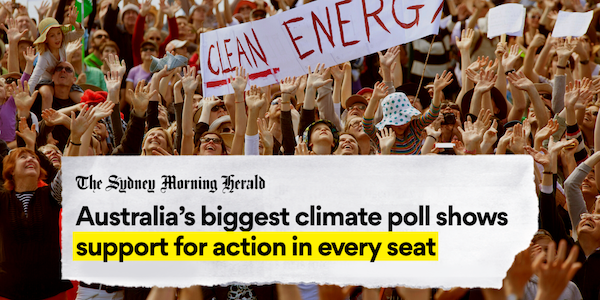 Climate change is a choice
. World experts say we already have the tools to solve the climate crisis quickly and cheaply —
if leaders choose to.
1
Right now, local candidates who want to represent you are making choices about which policies to announce during the election.
We have a short, powerful window to push for stronger policies from our future leaders, and writing a quick email now could be the most effective action you take this election.
Budget papers show Morrison's Liberal-National Coalition will funnel over $10 billion to fossil fuel subsidies — and SLASH investment in climate solutions — every single year.2 Can the other parties and candidates do better?

Demand from local voters is the most powerful way to influence local candidates, and having candidates on side with our policies will influence party leaders.

Contact your local candidates now and ask them to announce strong climate solutions — not coal and gas subsidies.
Budget papers show that if re-elected, the Morrison Government will funnel over $10 billion in public funds to prop up coal, oil, and gas
In the last year alone, they increased subsidies by $1.4 billion
At the same time, they plan to slash investment in climate solutions — reducing it by 35% over the next four years3
As urgent impacts like floods harm more and more people, it's time to stop public funding for this industry. International pressure is building against subsidies, so we need local pressure to build too.
Replace burning coal and gas with 100% clean, renewable energy this decade


Deliver 100% clean electricity from sun, wind, and other renewable power and storage by 2030
Reduce climate pollution by 2030 with targets that at least match major economies like the United States, the United Kingdom and the European Union
Reach zero emissions by 2035
Deliver a national plan to clean up transport
Support community renewables, household energy upgrades, energy efficiency for renters, and low pollution new buildings
Establish a National Transition Authority to ensure communities benefit from new industries and support thousands of well-paid jobs in clean infrastructure.
Fund the future, not public subsidies for coal, oil and gas corporations


Rule out new subsidies for coal, oil and gas,carbon capture and storage (CCS) linked to fossil fuel projects and fossil-fuel derived hydrogen
Review all federal fossil fuel subsidies by the end of 2022
End subsidies for drilling, pipelines or infrastructure for fracking methane gas in the Beetaloo in the NT.
Phase out all existing public funding for coal, oil and gas
Increase funding for clean energy agencies.
Support people and communities impacted by climate damage


Urgently implement the recommendations of the Royal Commission into National Natural Disaster Arrangements
Invest in community-level disaster preparedness and response — including permanent, funded, community resilience hubs; and prioritise funding for building resilience before a disaster strikes
Increase the accountability of the National Recovery and Resilience Agency and the Emergency Response Fund, so that they deliver community-led, trauma-informed, people-centred solutions commensurate with the scale of repeat climate disasters
Ensure that Traditional Owners must give consent to gas mining projects and infrastructure on their lands.

You can see the full list of asks in our Climate Leadership Pack here.
Tell your candidates about yourself! Tell them a bit about where you live, your community networks, the people and places you love, and why climate action matters to you this election. Your personal story is powerful! And demonstrating your links in your local community will make your local candidates take you seriously.

Make specific demands. Click on the blue text, "Not sure what to say?" to add talking points to your message.

Your vote is powerful too. After sharing a little about yourself, make sure you tell them that you'll be voting for the candidate with the strongest climate policies.
[1] IPCC says the tools to stop catastrophic climate change are in our hands. Here's how to use them, The Conversation, 5 April 2022.
[2] Australian fossil fuel subsidies surge to $11.6 billion in 2021-22, The Australia Institute, 28 March 2022.
[3] Australian fossil fuel subsidies surge to $11.6 billion in 2021-22, The Australia Institute, 28 March 2022.
Email your candidates!
Look up the candidates for your local electorate and then personalise the message below for more impact!
Note: Candidate data is generously crowdsourced, and will be updated as candidates announce.