✍️ Contact Labor: Collaborate for strong climate action!
As the new Parliament sits for the first time, climate is top of the agenda. As one of their first acts, the Albanese Government introduced a bill to enshrine their climate pollution reduction targets into law.

The fossil fuel lobby will be knocking on doors in Parliament House all week, so we must use our voices to drown them out and push the Parliament to collaborate for the strongest possible bill.1
With Climate Change and Energy Minister Chris Bowen introducing the bill, we're in a critical moment.
The Greens and climate-friendly independents want to improve and pass the bill – and the Government needs their crucial votes in the Senate, so negotiations are live.
2
With thousands of us writing to our Labor MPs or Senators, they will feel the strength of public demand from people who live in their electorates for
collaborative climate action.
Will you email your MP or Senator to remind them of the mandate voters gave them at the election?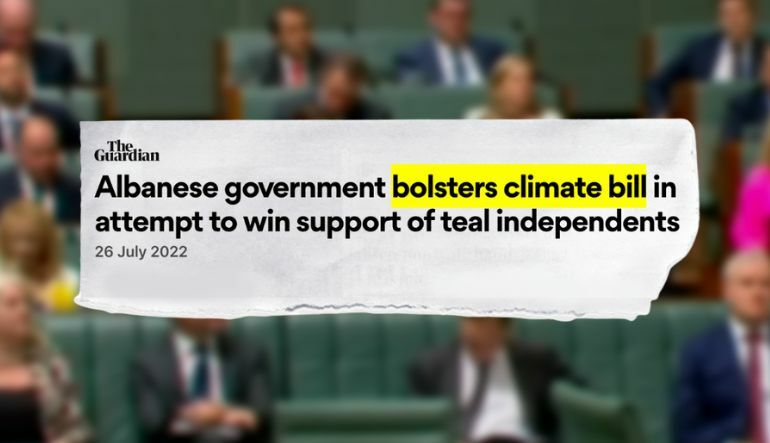 Your Member of Parliament represents your local electorate in the House of Representatives, and your Senators represent your state in the Senate. Their job is to listen to issues you care about.

We are targeting Labor MPs, or if you don't have one, the Labor Senators for your state.

If they don't hear a loud, strong chorus from constituents calling for strong action to cut pollution, they will be less likely to prioritise this issue. If demand is strong, they will be more likely to speak out in the party room and convey your concerns to party leaders.

The fossil fuel industry has countless lobbyists in the halls of Parliament, and we can be sure they will be speaking out for their interests, so it's up to us to speak out for the common good.
You don't have to be an expert to write an effective message to your MP or Senators. The most powerful messages are personal, and respectful. You can send the suggested message, but personalise your message for more impact. If in doubt, cover these key points:
Introduce yourself. Say a little about yourself. Mention your local community networks or your professional expertise.
Tell them why stronger climate action is important to you.
Ask them to collaborate with the independents and Greens to make the strongest possible climate bill.
[1]Confronting state capture, Australian Democracy Network, February 2022.

[2] Albanese government bolsters climate bill in attempt to win support of teal independents, The Guardian, 26 July, 2022.


Email your Labor MP or Senator
Edit the email body below for impact