🗣 Have your say on the CEFC
The public green bank responsible for thousands of clean energy jobs is under threat.
The Morrison Government has just announced their "roadmap" to climate destruction.
1
And they're launching their first attack with Energy Minister Angus Taylor's Bill to pollute the CEFC.
2
But Taylor's legislation has been referred to a Senate Committee – and with enough community opposition we can convince the Senate to vote down this toxic proposal.
Stand up to Taylor's clean energy sabotage by making a submission to the Senate Committee now!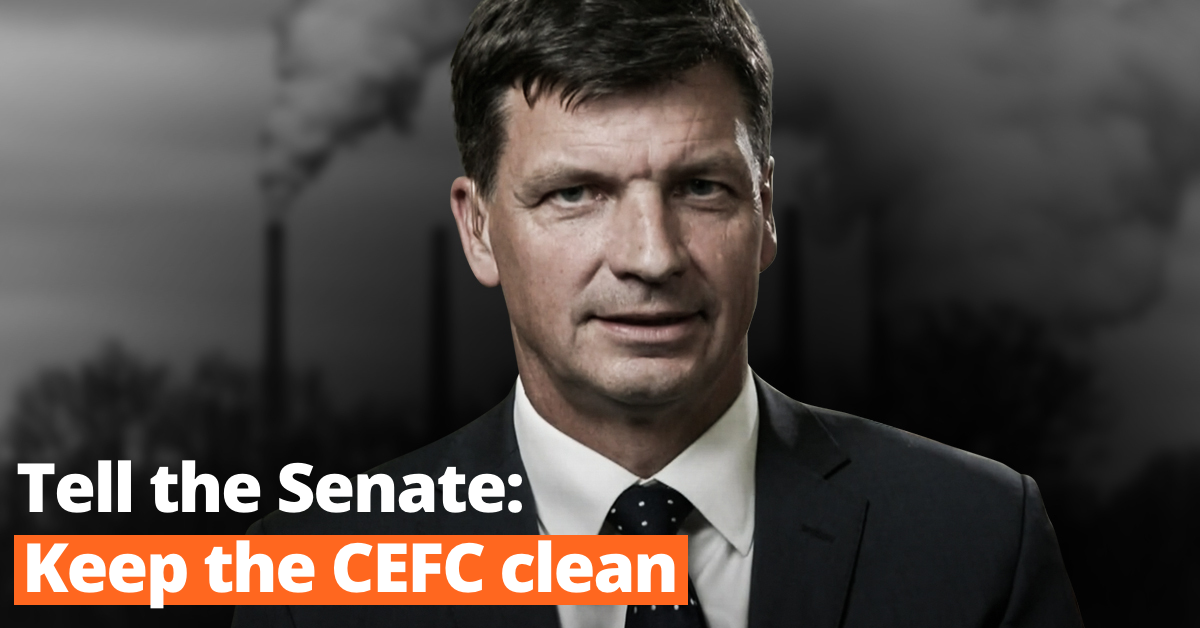 Here are some tips on how to write your email:
Talk about why clean energy matters to you:

Are you or someone you know employed by the clean energy industry?
Are you worried about the future of our climate?
Are you concerned about the economy and looking for certainty in the future of clean jobs?
Why is saving clean energy important to you?



Use your own words! You don't have to be an expert to stand up for clean energy. Talk about why you're concerned about these changes.


Short and snappy is best. The committee needs to go through many documents and submissions. If possible, try and keep your submission to a few short sentences or paragraphs.
Submissions are how government inquiries hear from the public.
Anyone may lodge a submission, and there are no rules about exactly what to say, or how to say it. The submission will be received by the secretariat (the person who manages the administration of the inquiry) who will process it, and then make it available to the Senators on the committee responsible for the inquiry.
All submissions completed before the closing date of Wednesday 23 September will automatically be submitted to the Senate Standing Committees on Environment and Communications on your behalf.
You can find out more information about the inquiry here!
The CEFC
is a publicly owned Green Bank set up to better finance the clean energy sector. It is responsible for $10 billion of public funding for clean energy projects. They've leveraged private investment at the rate of $2.3 for every dollar of public investment.
It's had a huge impact on Australian clean energy with several major projects of note:
The Home Battery Scheme, which provides 40,000 households with access to to the benefits of battery storage to encourage greater distributed power generation and boost household revenue.3


The Hornsdale Power Reserve was also supported by the CEFC.4


The Building Upgrade Finance facility which funded energy efficiency improvements for commercial premises includimg energy saving measures at Adelaide Oval.5


Sundrop Farms in Port Augusta which is future proofing our food supply by facilitating the harvest of 17,000 tonnes of tomatoes in a barren, agriculturally hostile environment using world-leading solar thermal technology and desalinated water.6


CEFC has financed one of Tasmania's largest wind power projects - the Granville Harbour Wind Farm. Made up of 31 turbines on a west coast cattle farm, the project is expected to create 200 jobs during construction and generate enough electricity to power 46,000 Tasmanian homes.7
[1] Coalition to divert renewable energy funding away from wind and solar, The Guardian, 17 September 2020.
[2] Taylor expands clean energy fund's remit to fire up gas-led recovery, The Sydney Morning Herald, 27 August 2020.
[3] Innovative technology meets innovative finance to deliver solar and batteries to SA homes, CEFC, viewed 6 August 2020.
[4] Neoen expands Hornsdale Power Reserve big battery, CEFC, viewed 6 August 2020.
[5] Spectacular Adelaide Oval upgrades put energy efficiency up in lights, CEFC, viewed 6 August 2020.
[6] World-first solar tower powered tomato farm opens in Port Augusta, Renew Economy, 7 October 2016.
[7] Granville Harbour Wind Farm to boost Tasmania's wind energy capacity, CEFC, viewed 6 August 2020.
Write your submission here!
You don't need to be a policy expert to stand up for clean energy. See our talking points for some ideas on what to write!

Introduce yourself, and explain why clean energy matters to you – respectfully. Remember to mention how important it is to not use clean energy funding for dirty gas power, and that the CEFC should remain free from political interference.

By pressing send, you acknowledge that this submission will be on the public record.