Urge governments to implement the disaster Royal Commission
After the 2019-20 Black Summer bushfires, emergency service leaders, bushfire survivors, and experts delivered 80 recommendations to state and federal governments in the Royal Commission into National Natural Disaster Arrangements.

It's a clear roadmap of how to prepare, respond and recover in the face of climate disasters – supporting communities with mental health, fast and comprehensive funding, evacuation planning and shelters, essential services, warning systems, and rebuilding the climate risk and prediction services that the Morrison Government tore down.
The spotlight is on Albanese and Perrottet's flood response.
They've visited communities, and united to get funding in peoples' pockets. But with most of the Royal Commision recommendations not implemented, now it's time for a comprehensive response from state and federal governments that matches the scale of repeat climate disasters.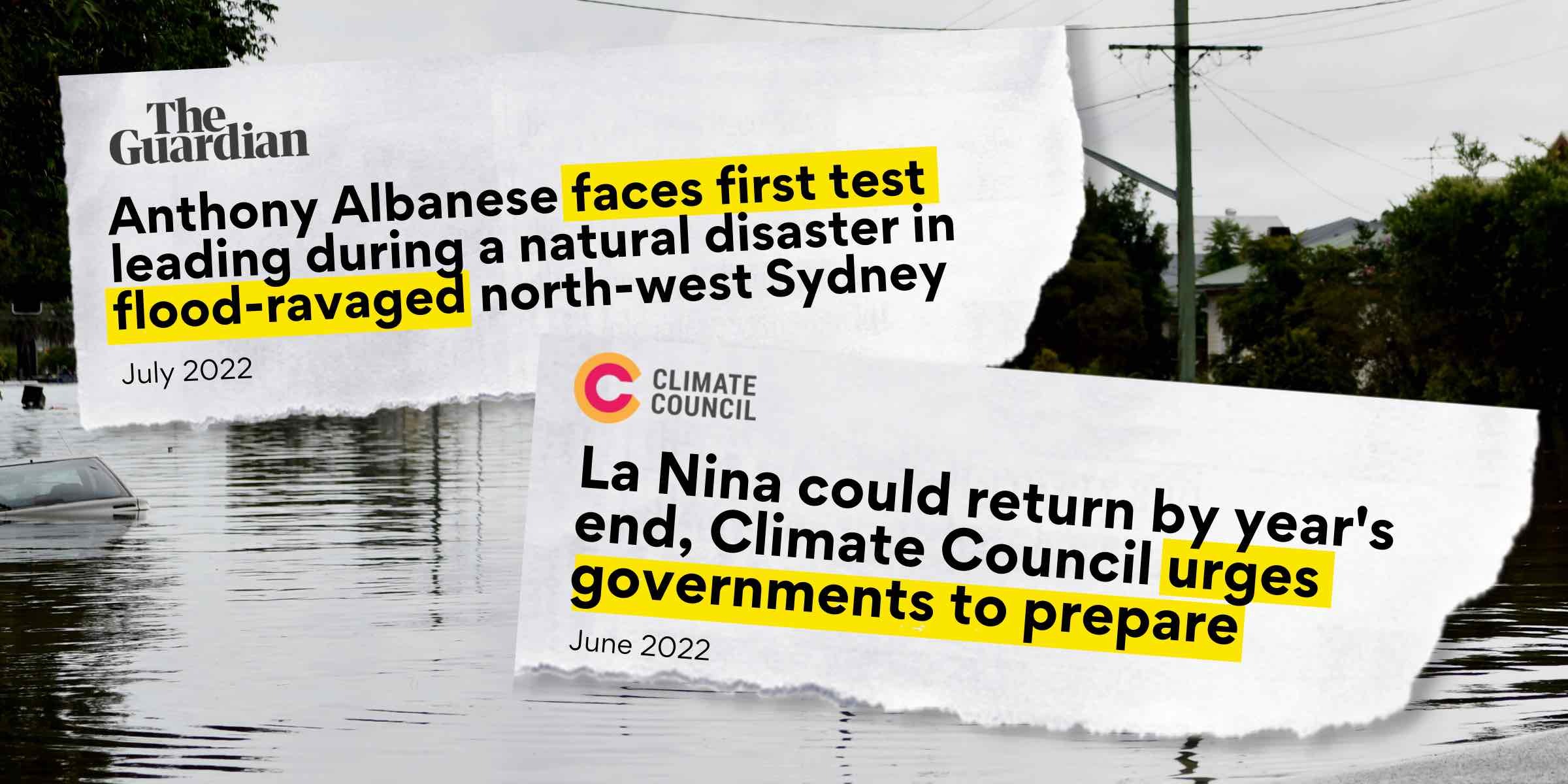 Will you sign the petition calling on state premiers and emergency ministers to urgently implement the disaster Royal Commission recommendations – to support communities before the next disaster hits?
If the Royal Commission recommendations had been implemented before the March floods, things would have been different for thousands of people. They would have had:
Timely information to help them make informed decisions to keep themselves and their loved ones safe.
Evacuation centres that were appropriately resourced so that they had somewhere warm, dry, and safe to stay while making alternative arrangements.
Quick access to emergency support payments so that they could cover their basic food, shelter, and healthcare needs while getting back on their feet.
Phone and internet services reinforced, so people could get the help they needed when they needed it.
Mental health care to help navigate the shock of the disruption and many challenging decisions in the aftermath.
Protection for volunteers who take time off work to support their communities.
The Bureau of Meteorology has declared La Niña over, for now, however warns there is around a 50% chance it could return by spring. This would mean an unusual three consecutive La Niña events.

Dr Simon Bradshaw, the Climate Council's Director of Research, says: "La Niña events can be damaging and costly for many Australian communities due to the greater risk of flooding. A third consecutive La Niña could mean continued above average rainfall on an already saturated east coast. The risk of extreme rainfall and flooding is also increasing with climate change.

"The former Federal Government failed to prepare communities for the east coast flooding disaster earlier this year, despite being warned. The new Labor Government must take steps now to get ahead of another potential summer of increased flood risk for these communities. We don't want to see another situation where communities are left to their own devices. We all hope another La Niña doesn't eventuate but around a 50% chance – or around double the normal likelihood – should be taken seriously."
SIGN THE PETITION
To the state premiers, state emergency ministers, and Federal Minister for Emergency Management, Murray Watt:

Our communities are leading the clean up of floods — some for the fourth time. But they shouldn't have to do it alone.

We urge you to implement the recommendations of the Royal Commission into National Natural Disaster Arrangements – to support communities before the next disaster hits.
---
---
14,265 signatures
---
In taking action, I agree to GetUp's Privacy Policy.