Do you want a Summer of Climate Action ?
We can't let the government dismantle our clean energy future on our watch. So we're kicking off a Summer of Climate Action on the streets, in our communities and on the airwaves. Will you chip in to help fund our climate campaigning nationwide?
Your contribution will ensure we run a smart, sustained and well resourced campaign in every electorate. We'll demand a plan to reduce emissions by the amount that science demands, investment and support for renewable energy and an Australia that has moved beyond coal and Coal Seam Gas. With your help we won't be ignored.
If you donate $19.50 or more
before the 4th of December
we'll send you a FREE copy of Bill McKibben's new book
Oil and Honey: The Education of an Unlikely Activist
(RRP $24.99 + postage). You can find out more about the book below.
Please Note! To receive your FREE book with FREE post, this page accepts credit card only (no paypal, cheque, money orders).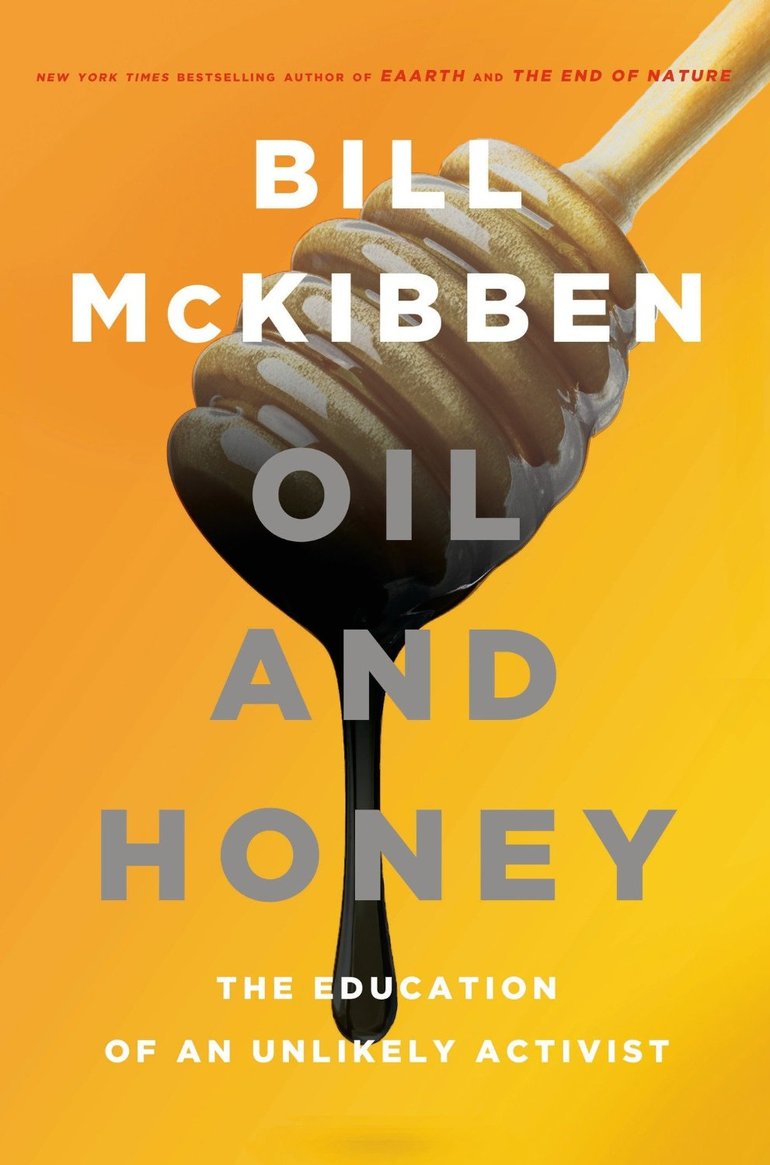 Oil and Honey: The Education of an Unlikely Activist
Bill McKibben

Environmental activist and 350.org founder Bill McKibben recounts the personal and global story of the fight to build and preserve a sustainable planet

Bill McKibben is not a person you'd expect to find handcuffed in the city jail in Washington, D.C. But that's where he spent three days in the summer of 2011, after leading the largest civil disobedience action in thirty years to protest the Keystone XL pipeline. A few months later the protesters would see their efforts rewarded when President Obama agreed to put the project on hold.

And yet McKibben realized that this small and temporary victory was at best a stepping-stone. With the Arctic melting, the Midwest in drought, and Hurricane Sandy scouring the Atlantic, the need for much deeper solutions was obvious. Some of those would come at the local level, and McKibben recounts a year he spends in the company of a beekeeper raising his hives as part of the growing trend toward local food. Other solutions would come from a much larger fight against the fossil-fuel industry as a whole.

Oil and Honey is McKibben's account of these two necessary and mutually reinforcing sides of the global climate fight – from the absolute center of the maelstrom and from the growing hive of small-scale local answers to the climate crisis. With characteristic empathy and passion, he reveals the imperative to work on both levels, telling the story of raising one year's honey crop and building a social movement that's still cresting.

"McKibben is the most effective environmental activist of our age. Anyone interested in making a difference to our world can learn from him."—Tim Flannery
The next day, though, a newspaper account called that protest the largest demonstration against climate change that had yet taken place in the United States, and suddenly I understood better why we were losing. We had the superstructure of a movement: scientists, economists, policy experts, Al Gore. In fact, all we were lacking for a real movement was the movement part, the surge of people that produces respect and maybe even a little fear in leaders. Activists on the front lines were doing superb work fighting individual power plants and coal mines, but they weren't getting the support they needed—it wasn't adding up fast enough. So we set out to build one.

When I say "we," I mean me and a small team of undergraduates at Middlebury College, where I teach. We'd met one another in those long days of walking across Vermont, and I'd been deeply impressed by their budding talents and their good cheer. So that winter we launched a campaign called Step It Up, and in the course of three months created a springtime day of action that coordinated 1,400 protests across all fifty states. (The one in North Dakota was small.) We were successful in part because of beginner's luck and in part because my young colleagues knew more about the Internet than the rest of the environmental movement put together. Mostly, though, we were pushing on an open door—there were plenty of people who were deeply concerned about global warming but felt powerless in its face. When we finally offered them the chance to unite their voices, they took it eagerly.
CLIMATE ACTION NOW!
---
Make a donation to ensure Sunday's rallies are just the first step in our Summer of Climate Action. If you donate $19.50 or more for a limited time, we'll send you Bill Mckibben's new book Oil and Honey: The Education of an Unlikely Activist.
---
In taking action, I agree to GetUp's Privacy Policy.