Stop fracking in Gloucester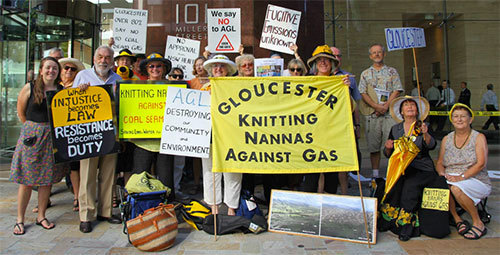 AGL's CEO Andew Vesey has ordered a comprehensive review into all of AGL's upstream gas operations. As part of this he'll be making the call on whether or not to keep coal seam gas mining in Gloucester, the site of several major environmental breaches.
It means we have an incredible chance to influence his decision.
Sign the petition to AGL's CEO and ask him to shut down their Gloucester coal seam gas operation.
(And let us know if you're an AGL customer or shareholder, we might have something fun for you soon!)
AGL's CSG projects have been mired in so many controversies recently it's been hard to keep up with. Here's a quick overview of what's happened;
1: AGL's license was suspended by the NSW Government after finding hazardous BTEX chemicals in the water of two of it's wells at Gloucester.1
2: AGL has been drilling for CSG under people's homes in Sydney, and residents had no idea.2
3: AGL's said its gas wells 200m away from homes were fine. An EPA report showed one-in-ten were leaking.3
4: Hunter Water refused AGL permission to dump wastewater in the sewer system, but AGL did it anyway.4
5: There have been huge fluctuation levels in the groundwater table near AGL's CSG wells in Gloucester.5
[1] AGL faces delays, additional conditions after BTEX chemicals detected. SMH. January 28, 2015
[2] Proof of CSG drilling under family homes in Sydney Yahoo News. January 22, 2015
[3] Leaks found at almost one in 10 AGL CSG wells at Camden SMH. October 14, 2014
[4] EPA investigation into discharge of treated flow back water into Hunter Water sewer network Hunter Water media release. January 22, 2015
[5] Shifting ground water levels add to AGL's CSG doubts. SMH January 27, 2015

TELL AGL TO GET OUT OF GLOUCESTER
Dear Mr Vesey,
In light of the unacceptable risk that fracking presents to our land, water and communities, we ask that you immediately shut down AGL's CSG operations in Gloucester.
---
---
36,729 signatures
---
In taking action, I agree to GetUp's Privacy Policy.