Sign and share the open letter to Scott Morrison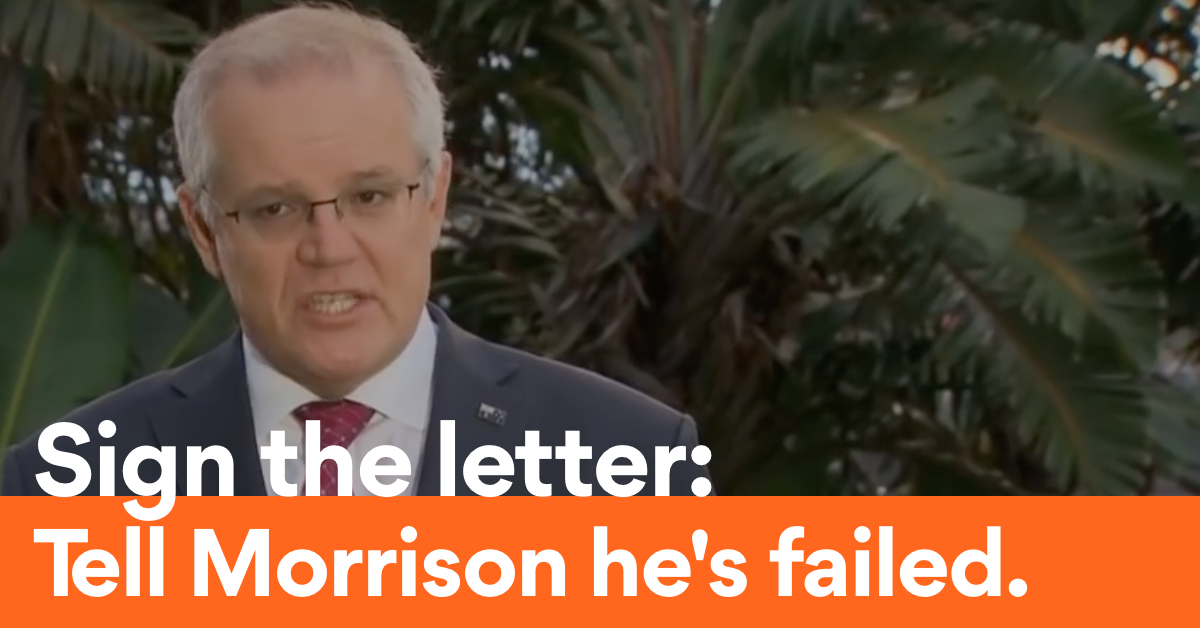 Dear Scott Morrison,

In the face of this crisis, we - the public - have gone to extraordinary lengths.

We've lost jobs and watched hard-earned savings go up in smoke. Cancelled weddings. Missed loved ones giving birth, or the chance to say goodbye.

We've stayed home, followed the rules, and learned to live a new way.

None of this was easy. But because we all made these sacrifices, we bought your government the time you needed to protect us.

You failed to hold up your end of the deal.

You've failed to deliver the vaccine rollout at the speed we were promised - Australia ranks near the bottom of OECD countries for jabs.

You've failed to properly look after people working on the frontline. Many people are risking their lives today to keep our health system and economy going. They should be safe.

You've even failed to tell us what's going on - often contradicting state premiers and the health experts you work with.

So we're asking you to take responsibility for this failure.

That means right now you stop the spin, stop telling us everything is fine, and be straight with us about the situation we're in and the plan to get out of it.

That means vaccinating every single frontline worker and high risk person with urgency.

It means rapid, proper financial and mental health support for those who've been forced into a dire situation.

Respect the millions of sacrifices we've made together, own your failures, and tell us how you'll fix them. That — and only that — will start to repair the trust you've damaged.

Signed,
Members of the Australian public.
SIGN THE OPEN LETTER TO SCOTT MORRISON
We - the public - have done our bit in this crisis. But the PM has failed to do his bit. It's time to tell him he's failed this test of leadership.
---
---
28,891 signatures
---
In taking action, I agree to GetUp's Privacy Policy.