SIGN: Keep energy funding honest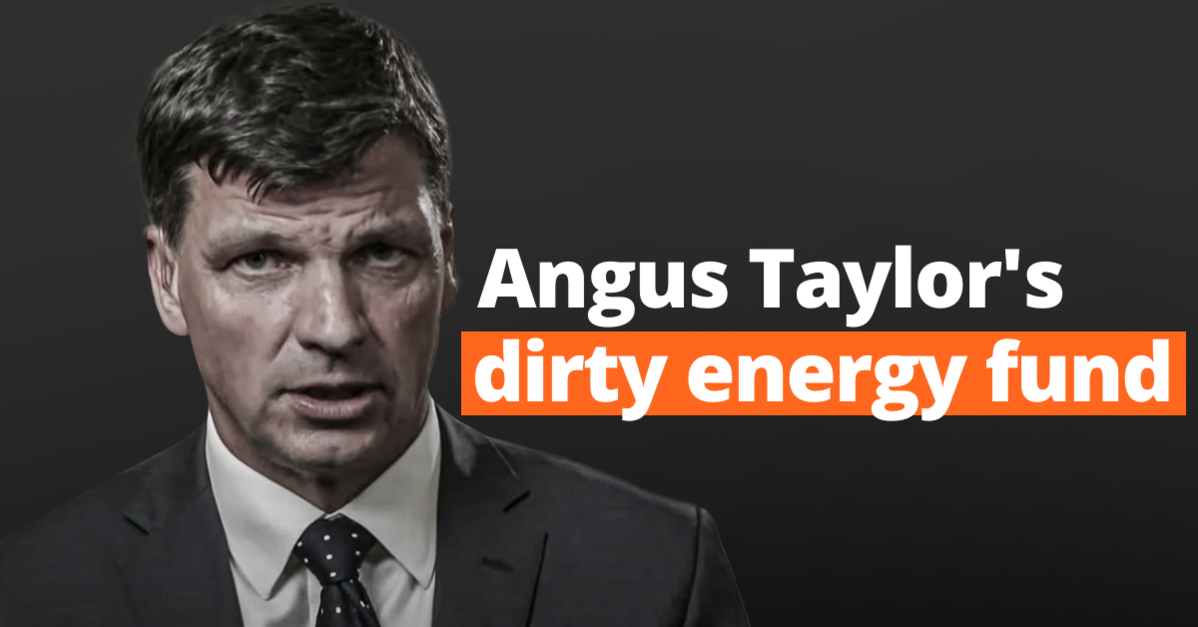 In the midst of the coronavirus pandemic, Energy Minister Angus Taylor is committing new funding to dirty energy – but experts say he may not have the authority.
Taylor's Underwriting New Generation Investment (UNGI) program would see public money propping up coal-fired power.1

Worse still, without legislation and guidelines to give it any authority for such spending, the validitiy of the program in its entirety has been thrown into question.

Sign the petition to hold Taylor accountable by requesting an independent review of his secretive program.
The Underwriting New Generation Investment (UNGI) program was announced by the Morrison government in late 2018 as an attempt to boost investment in projects that lower cost supplies of electricity.

But since then, no legislation has been passed to give it any authority. And without parliament sitting properly due to coronavirus, this isn't likely to happen for some time. There aren't even any guidelines for the scheme, just a recent Memorandum of Understanding (MOU) between the NSW and Federal Governments.1

In that MOU, it's made clear what Energy Minister Angus Taylor's intentions are for UNGI. There are intended measures to prop up coal-fired power, and weaken environmental protections. 2

The Australia Institute has called it a "complete shemozzle".2 They too have asked the Auditor-General to review UNGI.
The Auditor-General is an independent officer of the Parliament. The position is currently held by Grant Hehir.3

Supported by the Australian National Audit Office (ANAO), the Auditor-General previously investigated the controversial sports rorts scandal of last year that led to the resignation of former Federal Minister, Bridget McKenzie.
Labor
Before the Federal election, Mark Butler has called it a "joke of a program, reverse engineered to support coal plants".4

Independents
Independent MP Zali Stegall wrote to the Auditor-General to express her concerns that the scheme may have "no constitutional or legislative standing, no guidelines or criteria to assess projects, and its development and implementation did not follow a clear process."5
[1] Watchdog to consider audit of UNGI program as legal questions loom, Renew Economy, 15 April 2020.
[2] Angus Taylor's energy projects push, The Saturday Paper, 11 April 2020.
[3] The Auditor-General, Australian National Audit Office (ANAO), accessed 27 April 2020.
[4] Mark Butler aims to crack power investment logjam, The Australian Financial Review, 12 May 2020.
[5] Zali Steggall calls for investigation of Coalition plan to underwrite gas, hydro and coal power, The Guardian, 27 April 2020.

ADD YOUR VOICE
To the Auditor-General,

We urge you to undertake an independent review of the Underwriting New Generation Investment scheme.

The program lacks transparency and accountability and there are serious questions to be answered about its legal basis.

Public money must not be spent without legal authority and should only support projects selected through open, fair and legitimate processes.
---
---
26,941 signatures
We need 3,059 more
---
In taking action, I agree to GetUp's Privacy Policy.