Our voting rights are under attack
America's broken voting laws could be on our doorstep.
If a Morrison Government stacked committee gets its way, our electoral system could be radically overhauled with laws making it harder to vote and participate in elections.
1
Mining magnates and billionaires would be free to spend record amounts on advertising and political donations, while GetUp members would be banned from handing out on election day and mandatory voter ID laws could see people stopped from voting.
2,3,4
We need to step up the fight before these laws hit Parliament and demand politicians oppose any changes to our electoral system that undermine voting rights or make it harder to participate in democracy.
With enough public outcry, we can stop these insidious plans in their tracks.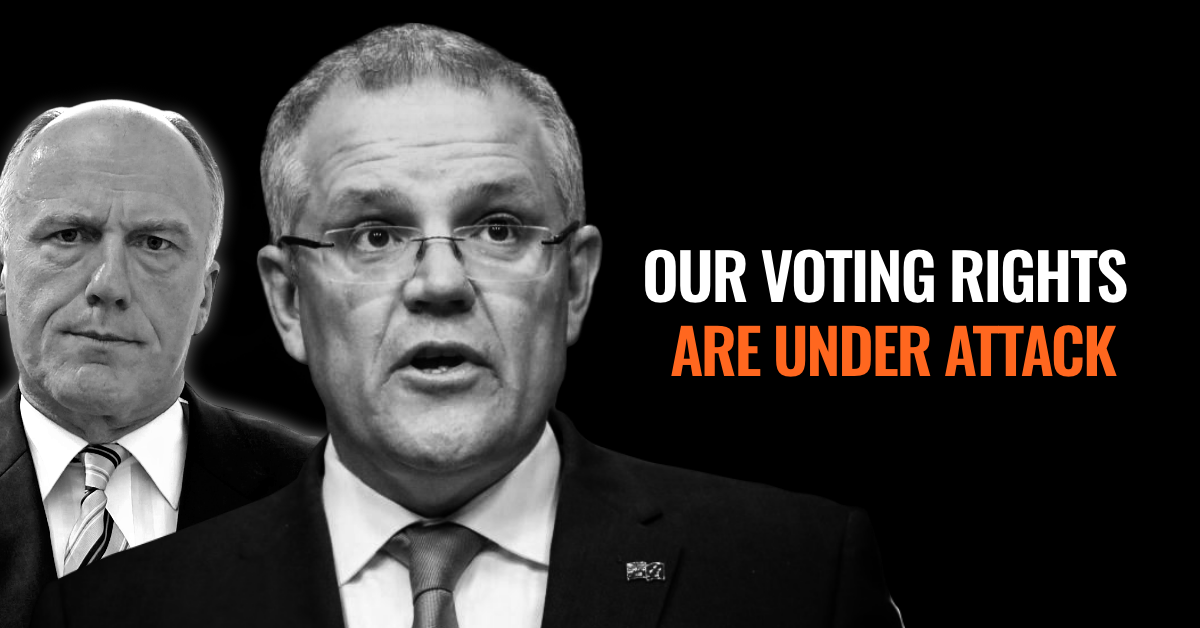 A Morrison Government stacked committee, dominated by hard-right MPs like Eric Abetz, has called for a dangerous overhaul of our electoral system, including:
Punitive voter ID laws, that could mean people being turned away from voting on election day just because they don't have the right identification documents.
A ban on GetUp members and other independent organisations from handing out how to vote cards and information on election day.
An end to by-elections entirely to put a stop on voters from having their say when they're fed up with the government of the day.
Reduced access to early voting, which is crucial for First Nations voters in remote communities to ensure the Australian Electoral Commission can get out to all communities before election day.
Civil society organisations in the US have been fighting conservative-led voter identification laws for years knowing they "are a part of an ongoing strategy to roll back decades of progress on voting rights."
5
And in the American election this year, people reported waiting
11 hours
at polling booths just to cast their vote thanks to similar voting laws, including strict ID rules.
6
We cannot allow the Morrison Government to import US-style voter suppression laws into Australia.
[1] Report on the conduct of the 2019 federal election and matters related thereto, Parliament of Australia. December 2020.
[2] Clive Palmer says big election spend 'more effective' than charity donations, ABC News. 21 May 2019.
[3] How big money influenced the 2019 federal election, The Grattan Institute. 4 February 2020.
[4] Alarm at federal push to demand voter ID, shake up preferential system, The New Daily., 11 December 2020.
[5] Oppose Voter ID Legislation, The American Civil Liberties Union. May 2017.
[6] US election 2020: World reaction to long queues of voters in US, BBC. 13 October 2020.
SIGN THE PETITION
To the Morrison Government and the Australian Parliament:
We call on politicians to oppose any changes to our electoral system that would undermine voter rights and democratic participation.
---
---
42,512 signatures
We need 7,488 more
---
In taking action, I agree to GetUp's Privacy Policy.