Stand with Traditional Owners to Protect Country
For more than 10 years communities right across the Northern Territory have been fighting plans to bring Australia's first industrial shale fracking gas fields to their doorstep.

Fracking companies are aggressively gearing up, ready to frack against the wishes of Traditional Owners. Tamboran Resources and Sweetpea Petroleum have rolled out across the Territory and we know these companies have bad track safety records and a history of not working with communities.

Despite opposition from Traditional Owners, these companies are ignoring consent and planning on dangerously fracking the Beetaloo Basin.
Last election a powerful grassroots movement from Darwin, Alice Springs, Mataranka, Katherine, Tennant Creek to remote Aboriginal communities like Borroloola, Minyerri, Kalkarindji and Maningrida took a stand across every corner of the Territory.
Together, they turfed out the frack-at-all-costs NT Liberal government, demanded an immediate stop on all fracking activity, a robust independent scientific inquiry and called for a Territory wide ban.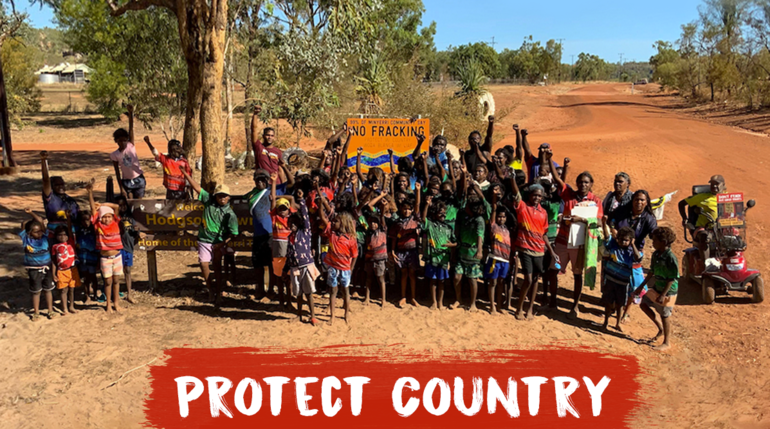 In 2018 amidst overwhelming opposition, new Chief Minister Michael Gunner gave fracking the green light. And just weeks later his own NT Labor party, including Ministers and members, voted for a territory wide ban to be party policy again.
In an effort to calm the anger from communities, Gunner promised "no go Zones" for large parts of the population leaving remote Aboriginal communities and pastoralists to face the drilling and fracking rigs.
There is little to no rights at all for most Territorians to object or consent but they won't back down. Shale gas fracking is dangerous and risky. It's already banned in many states in Australia and around the world.
While the NT is in the midst a huge drought over 90% of the land mass relies on the same shared underground water sources. Terriorians know fracking in one place will have huge impacts downstream. They don't trust that horizontal drilling and fracking will not contaminate their water. And they definitely don't trust the US based companies that have already created huge problems and health risks for communities and farmers in places like Wyoming, North Dakota and Texas.
It's not over. Remote Aboriginal communities who are facing the threat of drilling rigs rolling in are standing strong together to protect sacred country, water, communities and their future.
Will you join a powerful movement of people who are taking action with Traditional Owners in the NT? Together, we can stop these dangerous and risky fracking plans.
Santos, Empire energy, Tamboran Resources and Sweetpea Petroleum are some of the companies planning to start fracking the NT this year.
Almost half of the Northern Territory is covered by petroleum exploration licences or applications. Shale gas and oil production is a form of unconventional mining that uses techniques like horizontal drilling and hydraulic fracturing (fracking). If Santos and Tamboran have their way, this would be Australia's first land based shale oil and gas field, where every well would need to be fracked. It would be a climate disaster, destroying country and water.
SIGN THE PETITION NOW
Sign the petition now Chief Minister Natasha Fyles and Tamboran Resources,

Traditional Owners and Aboriginal communities have stood up and said no to your aggressive plans to frack for oil and gas across the Northern Territory.
We call on you to listen to First Nations communities and dump your dirty and dangerous fracking plans.
---
---
In taking action, I agree to GetUp's Privacy Policy.