Make big polluters pay what they owe us
---
Big polluters have been robbing us blind. Known tax-cheats like Chevron have essentially been handed our natural resources for free.1

A damning report from the Auditor General into the massive North West Shelf project found that offshore oil and gas companies have claimed at least $5 billion in dodgy deductions over the past 18 months alone.2

How are they getting away with this? Here's a hint: the companies profiting from these loopholes have donated over $1 million to major parties over the past three years.3 But we have a chance to turn this story around.

Big money talks. But votes talk louder, especially when polling numbers are as low as the Turnbull Government's are right now.

As soon as the Auditor General's report came out, Labor announced an inquiry into our main oil and gas tax – the Petroleum Resource Rent Tax (or PRRT). And within 24 hours the Turnbull Government announced its own review.

We're preparing a submission to the review, and we want your name on it!

Add your name to the submission to tell the Turnbull Government you want a crack down on corporate tax-dodging, plug the leaks in the PRRT, and make big polluters like Chevron pay what they owe.

---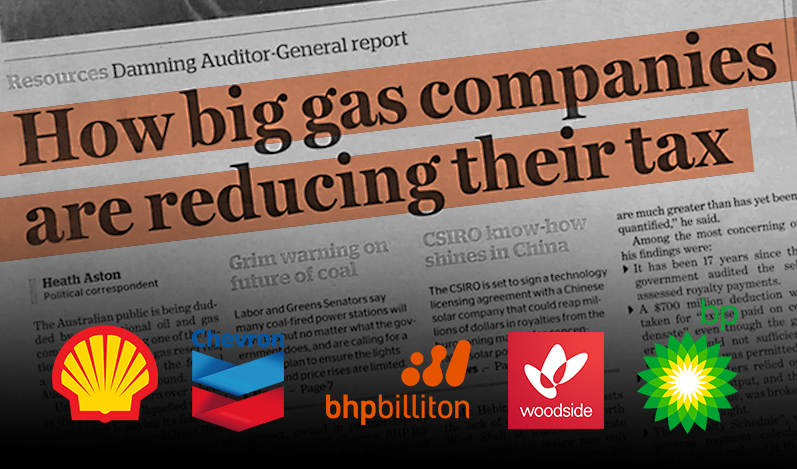 ---
References:


Heath Aston, 'Only 5% of oil and gas companies pay resource tax', Sydney Morning Herald, Oct 11 2016
Heath Aston, 'Fossil fuel giants using questionable deductions to shrink tax bills: Auditor-General', Sydney Morning Herald, Nov 28 2016
AEC, Party-reported Donations, 2012-15, data sourced from the Periodic Disclosures database
SIGN THE PETITION
To the Honourable Senators and Members of the House of Representatives:

We call on you to make big polluters pay their fair share of tax, so everyday Australians don't get stuck with the bill.
---
---
In taking action, I agree to GetUp's Privacy Policy.