Keep the pressure on Cabinet Ministers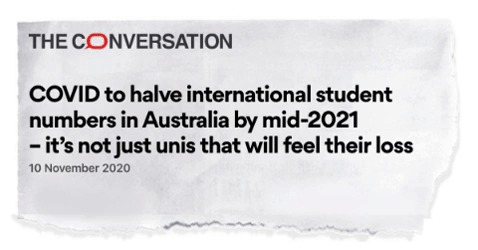 This week, a new report laid bare the huge hit to the economy we face should students stop choosing Australia. 1
It's news that is sure to have panicked Government politicians who picked up the paper —
and it's our chance to force them to address the humanitarian crisis they've created for International students.
For months Scott Morrison has blocked our friends, neighbours and colleagues on visas from federal government support through coronavirus,
ignoring thousands of international students who have been pushed into hunger and homelessness.
2
But for a government that puts profits over people, a hit to the economy is something they won't ignore – and with wall to wall coverage of this new report, now is the time to double down pressure on the Government to extend support for all.
Can you help keep the heat on the Government by sharing your concerns with key Cabinet Ministers?
Your email will go to the following Cabinet Ministers:
Minister Alan Tudge, Acting Minister for Immigration, Citizenship, Migrant Services and Multicultural Affairs. International students and people on temporary visas migrating to Australia are central to Minister Tudge's current role. Earlier this year he put out a media release stating "International students are extremely important to Australia."3
Minister Dan Tehan, Minister for Education. The international education sector is a huge component of Dan Tehan's role. In April he stated the following in a media release – "My message to our international students is: you are our friends, our classmates, our colleagues and members of our community."4
Senator Simon Birmingham, Minister for Trade, Tourism and Investment. Acting Finance Minister. Senator Birmingham is in charge of the planned pilot programs to bring international students to Australia. He's also a Senator in South Australia where one of the first pilot programs is set to commence this month.
These Cabinet Ministers are all likely to feel the heat for Morrison's mistreatment of international students. Together, we can help build pressure for Morrison to grant payments to all through this pandemic.
To ensure your email is most effective try and include these points:
Tell them a bit about yourself! Which area do you live in? What do you do? Why does this issue matter to you?
Tell them why you think they should extend income support to people, regardless of their visa status.
International students and people on temporary visas have faced growing economic hardship during coronavirus – with no financial support such as JobSeeker or JobKeeper.
As the report highlights – they make huge contributions to our communities.
It's not fair for the Government to treat them like cash-cows that they can abandon during a crisis.
These are our neighbours, colleagues and friends who came to Australia to build their lives here – they should not be discriminated against, simply for the visas they hold.
Demand they take action:
It is very important your message has an ask. Make it quite clear that you believe international students and people on temporary visas should receive income support through the coronavirus crisis. Tell them they should advocate for the rights of people on temporary visas to Scott Morriosn, and within party room discussions.
[1] 'It's totally dead now': Overseas student exodus cost Sydney's economy $2.5b, Sydney Morning Herald, 10 November 2020
[2] 'Callous treatment': international students stranded in Australia struggle to survive, The Guardian, 17 September 2020
[3] Joint media release: Supporting international students to support Australian jobs, 20 July 2020
[4] Media Release: A message for international students, 8 april 2020
Email key Cabinet Ministers now!
The more of us who share our concerns, the more pressure we can apply on the Government to extend support for all.

Your email below will be sent to Alan Tudge, Simon Birmingham and Dan Tehan.