Save Tasmania's Forests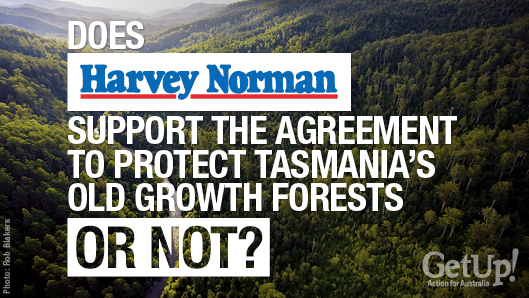 UPDATE: Great news. After hearing of the thousands of GetUp members who signed the petition Bunnings has confirmed that it supports the Tasmanian forest agreement. This means that if Havery Norman makes the same commitment old-growth sawmillers will have no grounds on which to black the agreement.

In a statement to GetUp Bunnings Managing Director John Gillam said that:

"Bunnings has always been supportive of a Tasmanian forest agreement being reached and there is no truth in reports by third parties that we were involved in the collapse of the agreement. We want to see an agreement that would support the timber industry, local communities and the environment".

We congratulate Bunnings for taking this stand. This confirms that retailers will support the Tasmanian forest industry if an agreement is reached to restructure the industry and protect high conservation value forests.

Let's keep the pressure on Harvey Norman. Please sign the petition to the right.
Tasmanian's forests agreement has just been scuttled. Old growth sawmillers have claimed that if they support the agreement - which would see the industry restructured and some of Tasmania's most amazing old growth forests protected - that Harvey Norman and Bunnings would cancel their contracts. We can rescue the Tasmanian forest agreement and secure the protection of Tasmania's irreplacable forests. To do that we need to call on Harvey Norman and Bunnings to publicly declare whether they support or oppose the agreement. Add your voice to the call now by filling in your details to the right.
SIGN THE PETITION NOW!
Enter your email address and details below to sign the petition.
We call for Harvey Norman to publicly declare whether or not they support the Tasmanian forest agreement.
---
---
32,159 signatures
We need 17,841 more
---
In taking action, I agree to GetUp's Privacy Policy.