Scott Morrison, get your priorities straight!
Australia is in the midst of a devastating economic crisis, and Scott Morrison wants to spend billions of dollars on long-range missiles and new weapons systems.
1
Now more than ever, we need increased funding for social services. Sign the petition calling on the Government to prioritise people, not weapons.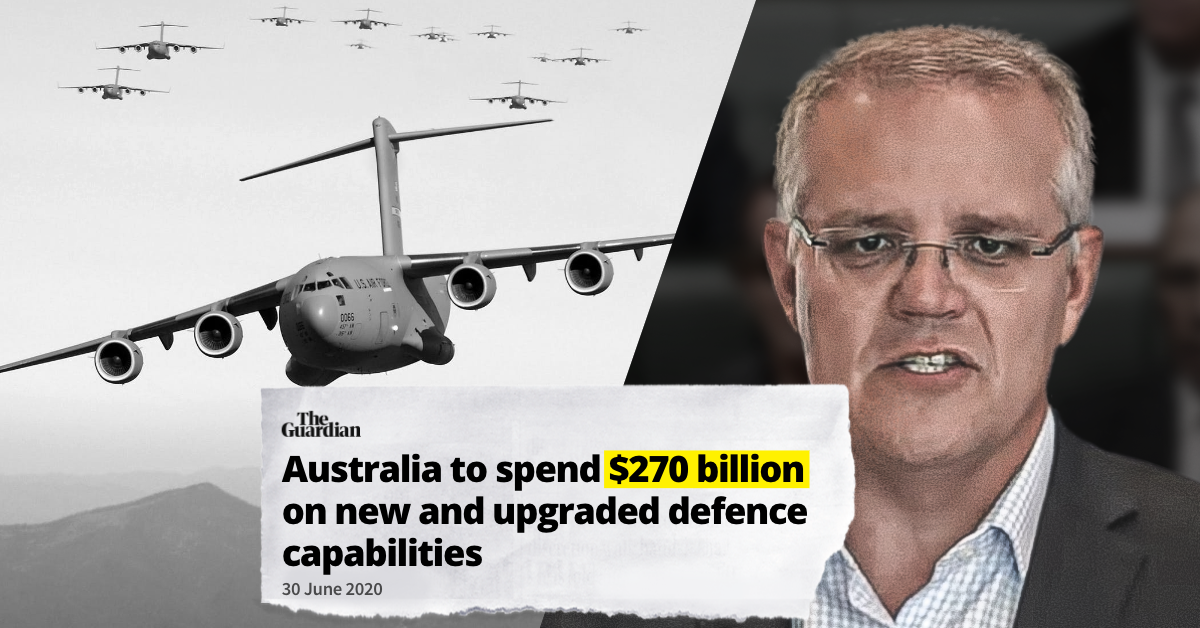 The Government just announced a major shakeup of military funding, committing $270 billion in funding over the next 10 years2 – while millions of people are struggling to make ends meet.

What about universal free childcare, increasing the age pension, and keeping JobSeeker at its current rate? What about extending income support to everyone who needs it? We need to increase funding for social support, not weapons.
[1] 'Australia to acquire long-range missiles as PM warns of dangerous post-Covid-19 world', The Guardian, 30 June 2020
[2] 'Australia to spend $270b building larger military to prepare for 'poorer, more dangerous' world and rise of China', ABC, 30 June 2020
Ensure everyone is supported regardless of visa status
Make sure jobs are available to anyone who wants to work
Provide Universal access to free education and training, including childcare, TAFE and university
Full implementation of all recommendations to stop deaths in custody and end incarceration of First Nations people within 10 years
Massive public investment in clean energy to transition our economy away from fossil fuels
Life-saving upgrades to our healthcare system including critical health and hospital infrastructure for regional and remote communities, and
End the housing crisis for First Nations communities, achieving parity with non-Indigenous public housing within 10 years
SIGN THE PETITION
Dear Prime Minister Scott Morrison,

Australia is in an economic crisis, and people are struggling to make ends meet. We need more funding for social support, not weapons.
---
---
23,206 signatures
We need 1,794 more
---
In taking action, I agree to GetUp's Privacy Policy.