Save our koalas
The bushfires devastated the NSW koala population, and now some of their last remaining habitat is under threat.
Logging is taking place in areas where there is undeniable proof koalas live – and a new government investigation reveals it will
drive the species to extinction
in NSW by 2050.
1,2
Can you help protect our koalas by demanding the NSW Government take urgent action to prevent logging?
Add your name to the petition now!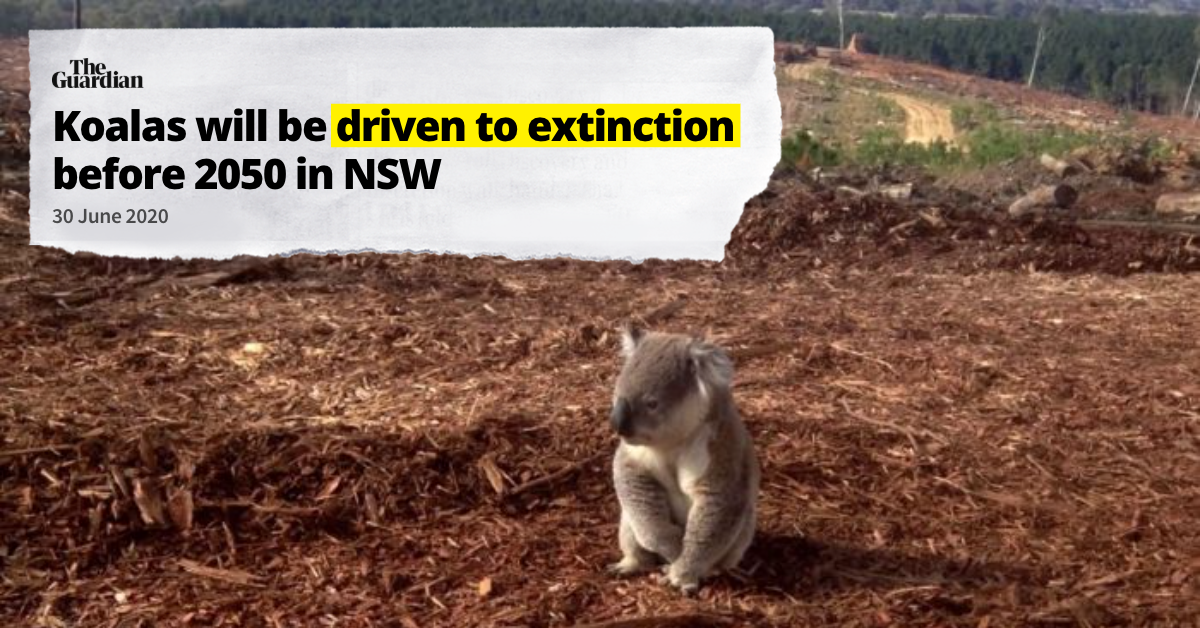 References:
[1] 'Koalas will be driven to extinction before 2050 in NSW, major inquiry finds', The Guardian, 30 June 2020
[2] 'Koala Habitats that Survived Australia's Bushfires are Now Being Logged', VICE, 12 August 2020
After a season of horrifying and destructive bushfires, the surviving koalas are facing new threats to their lives and homes. Logging companies are clearing land where koalas might be – and locals are stuck at home as a result of coronavirus restrictions, unable to protest. We are calling on NSW Premier Berejiklian to take action – suspend logging and protect our koalas from further threats!
Estimates suggest that as many as 5,000 koalas died in NSW alone and that they have lost as much as 83 percent of their habitat in NSW, as a result of the bushfires. Injured koalas have only just started returning to their homes. They need time to recover and we need to ensure they don't face further threats to their lives.
There is exceptionally strong evidence that koalas remain in areas where logging has been permitted to continue - evidence that should by law necessitate the immediate suspension of logging until further investigation has been undertaken. Undeniable proof has come to light of koalas living in active logging areas, including residents hearing koala activity and koala claw marks being found on trees. Given the state of the koala population, it's critical that NSW Premier Berejiklian suspend logging and a thorough assessment conducted to ensure koalas face no further threats. If there are koalas living where logging is occurring, we need to make sure it stops so they can be protected.

A NSW Government Parliamentary Inquiry has just been released, and it finds that the koala population will be driven to extinction by 2050 if major action isn't taken to protect their habitat from logging. This is further evidence of the urgency of the crisis and why we need to ramp up the pressure now.
CAN YOU SIGN?
To NSW Premier Gladys Berejiklian,

Thousands of koalas were lost in the recent bushfire season and now they face a new threat: the destruction of their habitat at the hands of logging companies.

We demand you take action now to protect our wildlife and suspend logging across NSW in areas where koalas may live.
---
---
38,167 signatures
We need 1,833 more
---
In taking action, I agree to GetUp's Privacy Policy.