2015: A year of action on domestic violence


Rosie Batty, whose courageous advocacy has brought domestic violence out of the shadows and into the public view, is our Australian of the Year.

We stand with Rosie, pledging to make positive change at every level - from national and state governments to our own communities.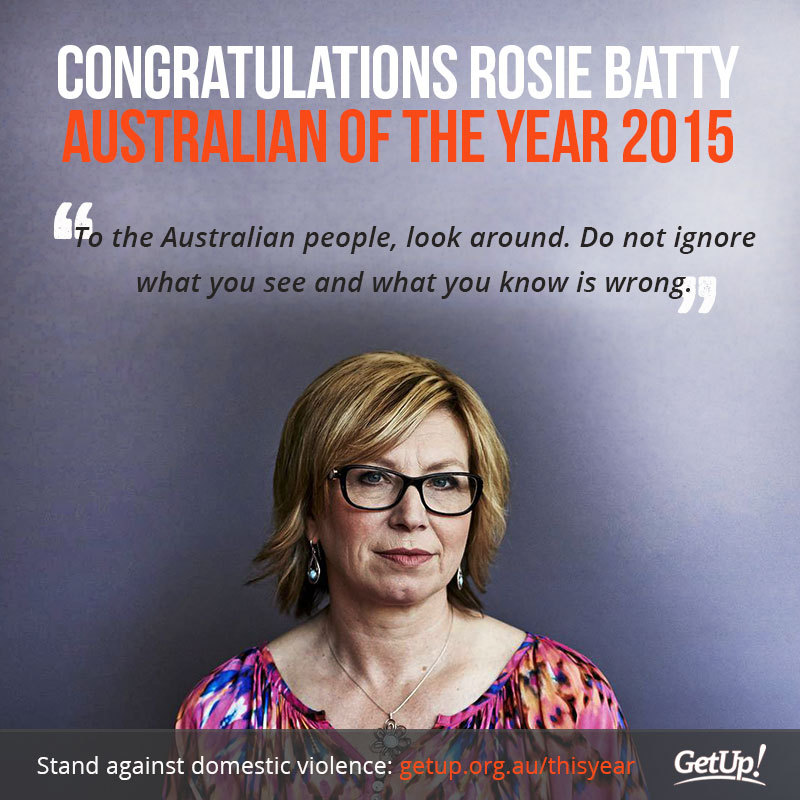 The problem:
In Australia, one in three women experiences violence at the hand of someone they know. On average, one women is killed every week by an intimate partner. One in four children have been exposed to domestic violence.
1
In 2014, the United Nations Committee Against Torture pointed to violence against women in Australia as a "principle subject of concern" - a vast problem in desperate need of fixing.
2
The solution:
Ending domestic violence requires transformative change on many levels - in our cultural attitudes, in the law, and in the support provided to people in violent relationships. This year, GetUp will be backing the advocacy of people like Rosie. Sign up now to show your support for these efforts, ensuring that throughout 2015 we can reach out across Australia to make the changes so desperately needed in our laws, communities and homes. This is just the beginning.


Pledge to make 2015 the year Australia acts on domestic violence.


1
PM pushes for national domestic violence scheme,
SBS News, 28 Jan 2015.
2
53 Session,
Convention against Torture and Other Cruel Inhuman or Degrading Treatment or Punishment, 3-28 Nov 2014. UN Office of the High Commissioner for Human Rights.
PLEDGE TO WORK AGAINST AUSTRALIA'S DOMESTIC VIOLENCE EPIDEMIC IN 2015
It's time to break the cycle and bring the issue of family violence forward in Australia.

If we want to achieve real change, at every level – from government policy to community attitudes – we must all work together to prioritise and address Australia's domestic violence epidemic.
We the undersigned pledge to make 2015 the year domestic violence is challenged throughout Australia.
---
---
In taking action, I agree to GetUp's Privacy Policy.