Stop Dutton from eroding our rights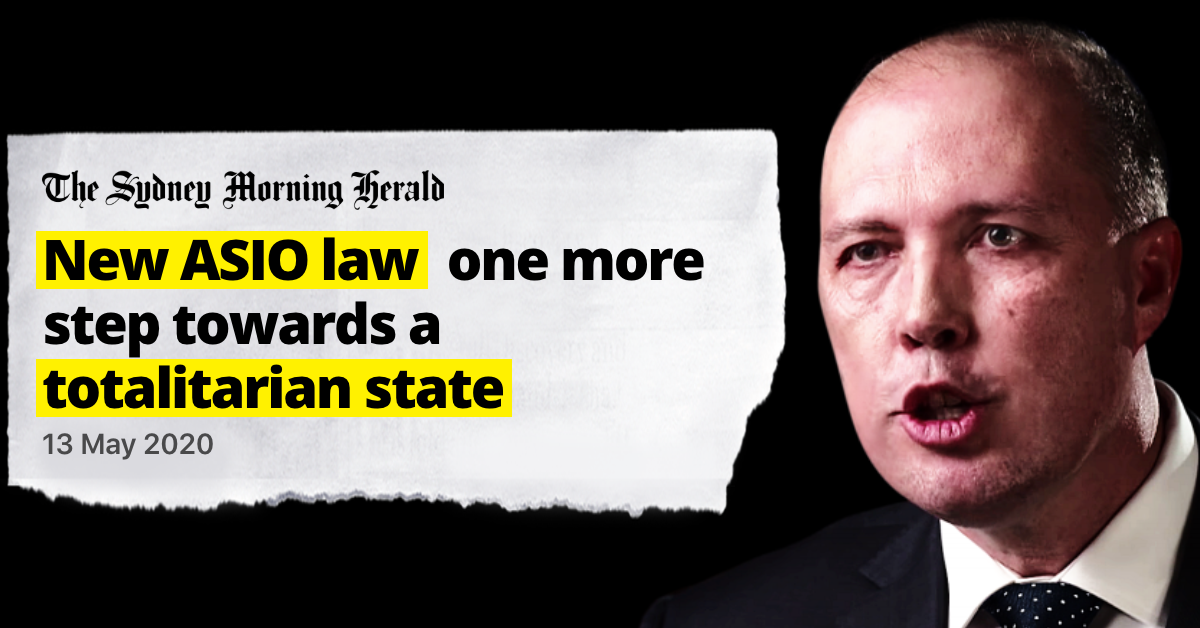 BREAKING: the Australian Federal Police are pushing for criminal charges against ABC journalist Dan Oakes who exposed war crimes committed by Australian special forces.1
Closed secret trials. Raids on journalists. Whistleblowers and lawyers facing prison time.
2,3
And Minister for Home Affairs Peter Dutton wants to go even further
– moving to pass a dangerous bill that expands ASIO's powers and attacks our civil rights.
If enough of us chip in, we can get a team of the best barristers on the case, digging into the proposed changes and whether it can be challenged on constitutional grounds.
Can you chip in to get a team of constitutional lawyers and experts investigating Dutton's proposed changes, and how we can stop them?

Dutton's changes to the ASIO Act would see people tracked without warrants, lawyers kicked out of interrogations and children as young as 14 hauled before ASIO for questioning.4

Public hearings on Dutton's Law will start in just weeks. So we need to act fast to expose the threats it presents to a free and fearless press and our own civil liberties.

To make sure this bill doesn't get waved through by politicians, we're going to need to bring the full force of the legal community down on Dutton.

Together we can pressure politicians to defend our democracy.


[1] AFP wants charges considered over ABC's 'Afghan Files' stories, SMH, 2 July 2020. [2] Federal police raid home of News Corp journalist Annika Smethurst, The Guardian, 4 June 2019 [3] 'I am unable to say much': anger simmers as Timor bugging hearing goes ahead in secret, The Guardian, 30 May 2020. [4] Australians' personal freedoms could be under serious threat with the new ASIO bill, The Guardian, 14 May 2020