Get in on the AYCC Action this Weekend!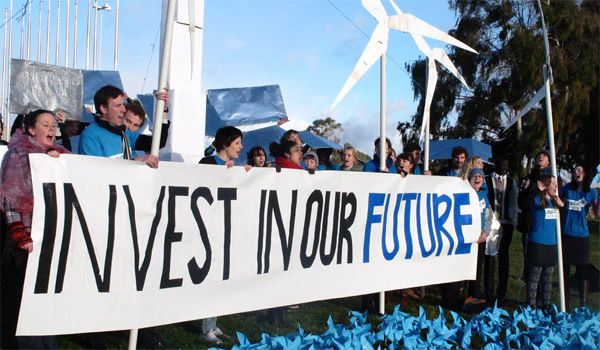 It's time to get in on the action.
A new Senate means a new opportunity to make a difference — an opportunity to show our Parliament what we care about. With a looming fight over the carbon tax, continued abuse of the Reef, and new attacks on the Renewable Energy Target, we need to fight harder than ever to protect our environment.
Here's an opportunity to do just that.
Our friends at the Australian Youth Climate Coalition are hosting their National Summit this weekend in Canberra -- and they'd love for you to be a part of the start of a bold new AYCC campaign the likes of which has never been seen before. They need you to help ensure all of our voices will be heard loud and clear above the media noise. Will you show support at the action briefing and an exciting rally on the first day of the sitting Senate?
Come out on both days and stand alongside the AYCC in defense of our environment;
What:
Action Briefing - All the information needed for a succesful day of rallying
Where:
Leonard T Huxley Lecture Theatre, ANU
When:
Sunday, 6th July, 4:00pm - 5:30pm
What:
Action Day - An exciting rally using techniques this Senate will never see coming
Where:
Parliament House
When:
Monday, 7th July, 8:00am - 12:00pm
You'll need to attend the Action Briefing before you can attend the Action Day rally so make sure you
come out on both days.
It's time to roll up the sleeves and be vocal about protecting our world's future.
It won't just happen. GetUp and the AYCC need you to stand up and rally with us.
If you're interested in doing more, check out the full weekend's activities on
the AYCC website.
LET US KNOW IF YOU CAN MAKE IT
Your voice matters in determining the future of our environment. Show your passion this weekend.

Let us know if you'll be there by clicking the button below.


What: Action Briefing - All the information needed for a succesful day of rallying
Where: Leonard T Huxley Lecture Theatre, ANU
When: Sunday, 6th July, 4:00pm - 5:30pm

What: Action Day - An exciting rally using techniques this Senate will never see coming
Where: Parliament House
When: Monday, 7th July, 8:00am - 12:00pm


---
---
In taking action, I agree to GetUp's Privacy Policy.