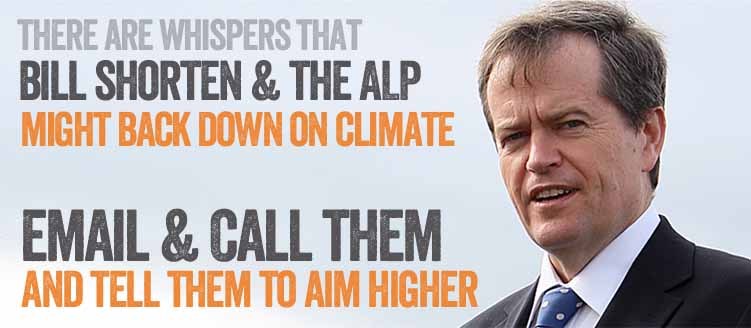 ALP - don't go backwards on climate
Last week, the country watched on as our extreme weather conditions worsened, and the worst bushfires in 45 years ravaged our land. More and more climate scientists spoke out about the urgency of our leaders taking strong, political action to reduce emissions and reduce the effects of climate change.
Now, just days later,
there's whispers that the new leader of the Opposition Bill Shorten will back down on climate action
, and support the repeal of the carbon price.
We don't yet know what his plan is - but regardless we need to make sure he is being ambitious on climate change. After all, this moment calls for more climate action, not less. We can't afford to go backwards now.
We need to be loud, and we need to be resounding. We need to prove that we won't stand for climate inaction. Right now, crowds are gathering outside new Leader of the Opposition Bill Shorten's office in Victoria, where members of his Electorate are urging him to stay strong on climate action, and not back down now.
Wherever you are, can you email your Labor MP and urge them not to back down on climate?
You can also find details to call your MP here.
Tell your Labor MP to stand firm on climate change
There are whispers of the ALP backflipping on climate action. Use the below form to email your Labor MP - asking them to aim higher on climate, rather than go backwards.
You can also find details to call your MP here.