Chip in to fund GetUp's climate campaign
GetUp members have voted: climate change should be our number one campaign priority. Can you chip in weekly to make it happen?
Australians are ready for a cleaner, safer and fairer economy. We're tired of the big polluters handcuffing us to dirty old energy and the global warming that comes with it. We expect our political representatives to stand up to vested interests and take stronger action to protect our land, water and community health.
But to do this we will need to campaign like we've never campaigned before. We need to:
Take on the big projects: bolster the widespread community determination to halt new coal mines, constrain unsafe gas and shut down dirty power.
Shift the money: drive institutional divestment from dirty energy and use our consumer power to create the demand to fund supply of clean renewable power.
Expose the dirty polluters stranglehold on politics and reclaim our democracy: slam the revolving door of lobbyists and withdraw taxpayer money propping up dirty power.
Maximise the impact of international momentum: organise all the way to and beyond Paris.
Change the story in seats that make government: build the people power and secure the data-driven strategic advertising to counter the influence of big polluters and shifts votes to change governments.
Can you support GetUp with a regular donation that will fund our hard hitting campaign to stand up to the big polluters and hold our political representatives to account?
The big polluters might have big money on their side but we have the power of people.
Our campaigns team has a solid plan ready to roll out and will maximise the strategic opportunities available to us along the way. Right now we need to scale up our team and get our war chest ready. Here are some of the things your money could go towards:
Support for community opposition and legal fights against the big polluters
Call centres to support consumers to make the switch to clean power
Researchers to track the money trail and revolving door of fossil fuel lobbyists
Polling to show clean energy is a vote winner and dirty power isn't
Strategic communications and advertising to tell our story
Community organisers to co-ordinate powerful teams of volunteers in seats that matter
All the phones, clipboards and t-shirts, billboards, newspaper ads and street posters to get our message out!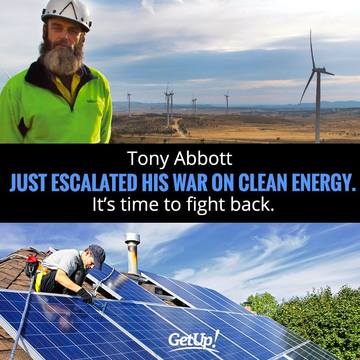 Yes, I'll support GetUp's climate campaign!
We have big plans to take the power back from big polluters. Can you support GetUp's campaign for a safe climate and clean economy?