✍️ Disarm Middle Arm
Scathing new documents reveal the Albanese Government knew the Middle Arm gas hub is central to the expansion of fracking production in the Beetaloo Basin, and are still supporting the project with billions in public funds.1,2
It comes after Larrakia Traditional Owners warned that sacred sites at Middle Arm are at risk of being Juukan Gorge 2.0 if polluting gas hub goes ahead.
3
Next week, GetUp members are delivering a petition straight to the person with the power to stop Middle Arm - Tanya Plibersek. For it to have the impact needed to give her the political will to act, we need to make it
massive.
Will you sign the petition demanding the Albanese Government listen to Traditional Owners and communities and withdraw all support for the fossil fuel industry's Middle Arm project?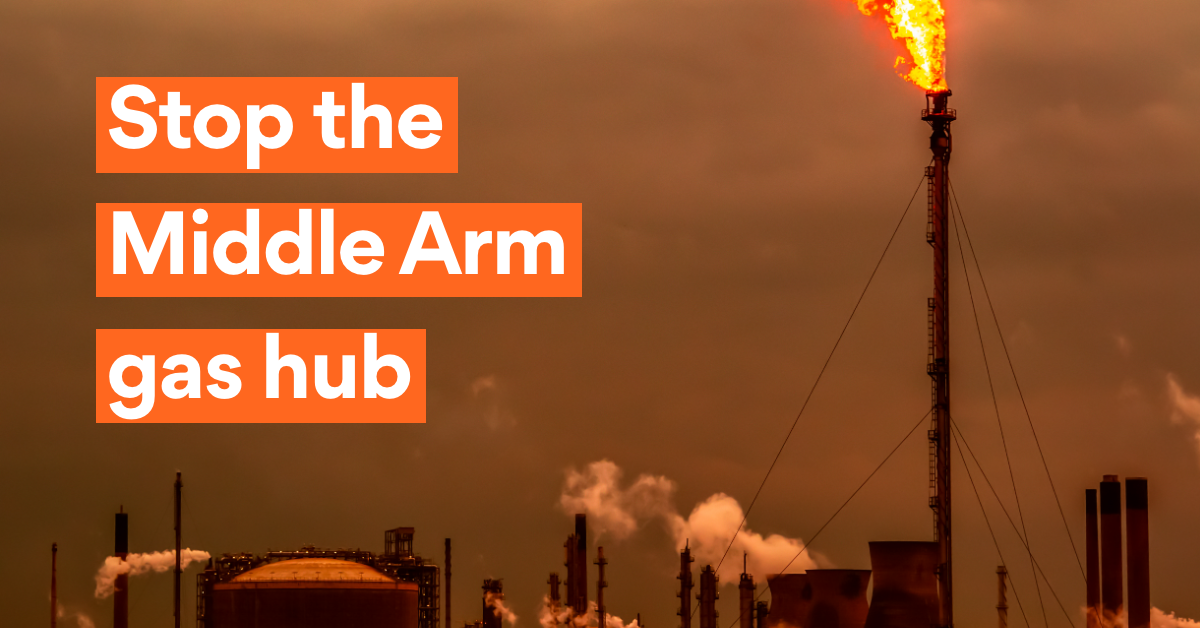 For a Government that was elected on a platform centred around strong climate action, their second Federal Budget in May was a let down, with millions in new public funding for gas.4

There were some positive bits for climate and communities, such as the Household electrification package (a good start to help people save money by getting off expensive, polluting gas), and the National Net Zero Authority (an important win for Australia's energy workers, their families and communities, and for the climate).

But in general, this budget does not meet the ambition on which the Albanese Government was elected upon, nor which communities and the climate crisis calls for. Communities are still reeling off the back of disastrous floods, and we are heading into another likely bushfire season. When living on the frontlines of climate disasters like these, any budget that doesn't completely remove Morrison-era fossil fuel subsidies and invest in community solutions and resilience is a failed budget.

In addition to $1.9 billion in public funding for the Middle Arm gas hub that would fast-track fracking in the Beetaloo Basin, they've confirmed $214.9 million in Morrison-era handouts for gas industry roads. Total fossil fuel subsidies are a staggering $50 billion in this budget.

It makes one thing very clear – it's up to us, the GetUp movement, to work with Traditional Owners and allies across the sector in stopping fossil fuels once and for all. And that means stopping Middle Arm. Will you sign the petition today?
Middle Arm is a gas industry plan for a massive port and industrial hub on Darwin Harbour.

The ABC obtained the NT Government's original business case for Middle Arm through freedom of information requests. It details how the new hub would pump out petrochemicals using fracked Beetaloo gas that steamrolls the consent of Traditional Owners.5

Frackers and gas lobbyists celebrated when nearly $2 billion in public funding was announced in the October budget.6

After GetUp members – together with Traditional Owners and local campaigners – snapped into action to challenge the subsidy, the Albanese Government greenwashed the project as "sustainable".7 And the NT government quietly scrubbed the word "petrochemicals" from the Middle Arm website.8

It's shrouded in controversy and secrecy, and has dire consequences for Traditional Owners, surrounding communities, and our climate. Sign the petition today!
[1] Middle Arm hub threatens Indigenous rock art, traditional owners say, The Guardian, 16 May 2023.

[2] $2.5 billion infrastructure boost for the Northern Territory, The Hon Catherine King MP, 16 October 2022.
[3]'Another Juukan Gorge': Darwin's Middle Arm hub threatens Indigenous rock art, traditional owners say, The Guardian, 12 May 2023.
[4] Budget promotes energy security and a low carbon future, The Hon Madeleine King MP, Minister for Resources and Minister for Northern Australia, 9 May 2023.
[5] Business case for Middle Arm Sustainable Development Precinct triggers climate concerns from critics, ABC News, 29 December 2022.
[6] Media Release: Booming oil and gas public contribution at risk from energy policy changes, APPEA, 25 October 2022.
[7] [8] NT government deletes references to 'petrochemicals' from Middle Arm website, rejects 'greenwashing' claims, ABC News, 26 November 2022.
SIGN: NO MIDDLE ARM GAS HUB!
To the Albanese Government:

The Middle Arm gas hub is a disaster for communities and our climate. We demand you withdraw all support for its development, including:
Securing a full Senate inquiry to shine a light on this murky project
Removing all public funding for the project
Giving all environmental approvals the independent scrutiny required
Urgently implementing federal cultural heritage legislation
---
---
In taking action, I agree to GetUp's Privacy Policy.