Labor: No $1.9 billion subsidy for Middle Arm & fracked gas
Labor has announced a massive $1.5 billion fossil fuel subsidy — which was upped to $1.9 billion in the October budget — for a huge Middle Arm petrochemical plant to use fracked gas from the Beetaloo.1

This comes months after now Climate Change Minister Chris Bowen, after sustained pressure from our movement, promised no new public funding for fossil fuels.

It's the massive fossil fuel project you've never heard of — a plan to turn fracked gas from the Beetaloo into plastic, pesticides, and liquid gas for export2 steamrolling consent of Traditional Owners.

If we raise the alarm on this outrageous decision before the October budget, we can put the pressure on Labor MPs to stop public funds going to more climate-wrecking fossil fuels. Will you send a quick email right now?
The Middle Arm Petrochemical Plant is being used to justify fracking in the Beetaloo Basin – as the CEO of fracking corporation Tamboran just admitted in the Senate inquiry into fracking.
3
The gas industry is deliberately confusing politicians and the media on the true nature of the Middle Arm petrochemical plant, relying on greenwashing to push their toxic plan over the line.
Labor MPs and decision makers need to know that this is a fossil fuel project — and they need to hear from you today. And if you don't have a Labor MP, will you urgently write to your Labor Senators?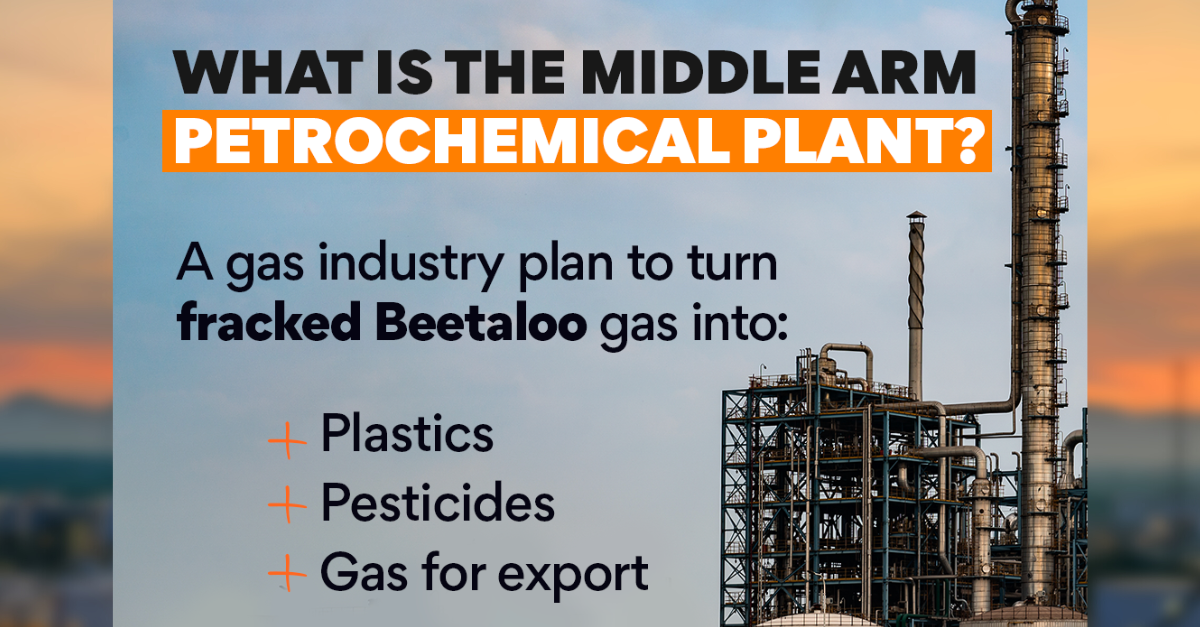 [1] Middle Arm funding to be honoured in $2.5bn cash splash for the Territory, NT News, 16 October 2022.
[2] One up on Barnaby: government delivers Coalition election promise for port, petrochemicals, gas subsidies, Michael West Media, 18 October 2022.
[3] Tamboran Beetaloo inquiry, Tom Swann Twitter, 12 October 2022.
EMAIL YOUR LABOR REPRESENTATIVE
Labor MPs and senators need to know that this is a fossil fuel project — and they need to hear from you now. Edit the email below to maximise your impact!