No to Abbott's University cuts!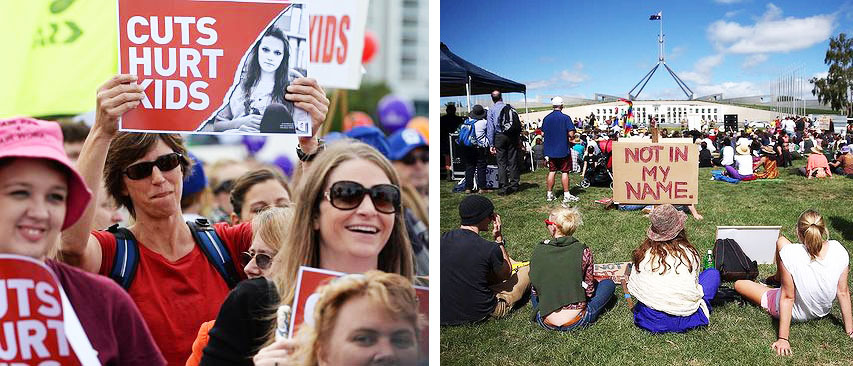 The Abbott Government has a plan for Australian universities, and it isn't pretty. If plans go ahead,
future generations of Australians won't have the same access to higher education as many of us have had
- and those who are already disadvantaged will be the worst hit by ballooning fees.
Sign the petition so we can ask our senators to protect the hallmark of the Australian education system: equal opportunity for all.
The Abbott government knows that the changes are controversial. The new laws would mean:
Students will pay more - deregulated fees will mean that universities can charge whatever they want for degrees
Disadvantaged students will pay far more for the same education - changes in interest arrangements which means that women, part-time workers and low-income earners will pay far more for their education
Graduates will be forced pay earlier, and pay more - the point at which repayments are made will kick in earlier in their career
This is what we know:
it's a dangerous plan that could lock already disadvantaged students out of university education. But the good news is it's not a done deal yet.
The government will be relying upon new Senators to pass these laws. The Abbott government know the laws are controversial and will be hard to pass - they themselves have admitted that they may even change the proposed laws.
Let's use this moment to speak out together and encourage the government to abandon their plans for US-style deregulation, and key crossbench senators to vote against them.
Uncapped university fees: currently the student contribution to a university degree is capped, but the cap on those contributions will be removed from 2016.
Interest rate on FEE-HELP loans: that "reflects the cost of government borrowings". Currently loans are indexed each year to reflect inflation, but this will be replaced by the government bond rate equivalent, which is traditionally much higher than inflation.
Graduates will be required to pay more, and pay quicker
- the government accelerate their repayment of, higher education loans. Students will stay paying off their debt at
Reduced contribution from governments - including reducing the commonwealth contribution to university degrees by 20% on average.
Here's what news sources are reporting:
"Modelling suggests universities will increase fees by at least 30 per cent to make up for deep cuts to funding for courses. The government contribution to media courses will be slashed by 50 per cent, while funding in sciences, visual and performing arts and social student will be cut by about 30 per cent. Nursing will suffer an 8.5 per cent cut, with medicine cut by 15 per cent." via
The Australian
"Universities Australia has warned against any immediate move to deregulate fees, backing recommendations from the Commission of Audit that options for partial or full deregulation should be examined over the next 12 months." - via
The Australian
"If you had to pay $100,000 for an undergraduate degree, would you do it at an Australian university or one overseas? Now that the federal government has lifted the cap on tuition fees, universities will be able to charge what they want from 2016. So expect fees to rise substantially, particularly at the Group of Eight universities." - via
SMH
"For the first time in his life Bruce Chapman is worried about HECS — the scheme he designed in 1989 — and believes that fee changes could lead to university profiteering." - via
News.com.au
SIGN THE PETITION
Sign the petition now and urge your representative to protect education.
Dear MPs and Senators -
Keep education affordable and accessible for all. Ensure all Australians have equal opportunity to a quality education, without being burdened by unsustainable debt.
---
---
In taking action, I agree to GetUp's Privacy Policy.