Contact Great Barrier Reef Marine Park Authority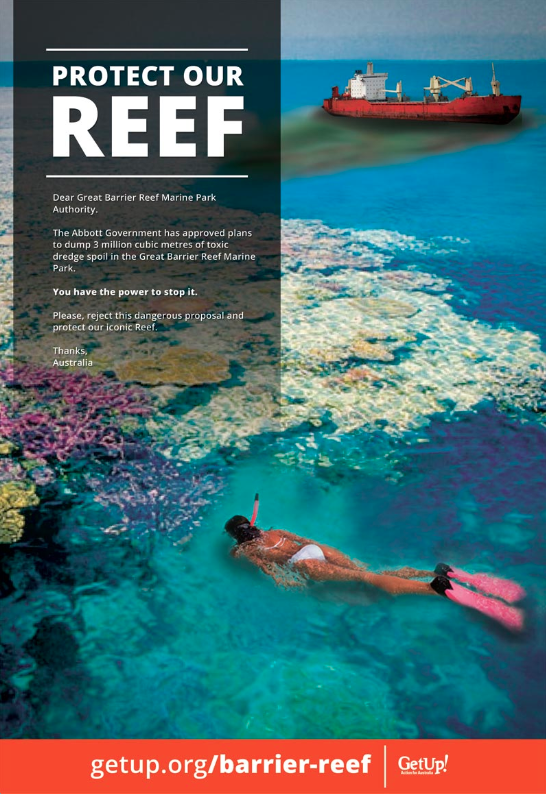 Environment Minister Greg Hunt has caved to mining interests and approved the dredging and dumping of 3 million cubic metres of seabed in the Great Barrier Reef World Heritage Area at Abbot Point.
It was a decision that stung, but here's why we can't give up.
The Great Barrier Reef Marine Park Authority (GBRMPA) still has to issue a permit to allow the dumping to occur in the Marine Park. They have said they will make a decision within ten days.
Minister Hunt has approved the project without even knowing where the dumping will occur. Without knowing where the dump site is, there is no way the environmental impact on the Reef and its fragile ecosystem can be accurately assessed. As protectors of the Reef, we must put pressure on our Indpendent Reef Authority to not greenlight dumping toxic sludge in our Reef water.
Can you take a few moments to email GBRMPA and demand that no dumping be approved before knowing exactly how it'll impact our Reef?
There are some points you might like to include below. But the more you can put your concerns into your own words, the more powerful they'll be.
GBRMPA is the Australian Government agency that manages the Great Barrier Reef Marine Park. Their fundamental obligation is to protect the Reef by ensuring that all human uses are ecologically sustainable and that ecosystem function and resilience is maintained.
These are just some talking points, feel free to use them to get you started. The email will be a lot more powerful if it comes from you and is written in your own words.
Minister Hunt's recent decision to dredge and dump 3 million cubic meters of sea bed in the Great Barrier Reef World Heritage Area at Abbot Point is worrying.


You understand that GBRMPA is about to make a decision whether or not to grant the permit to dump the toxic sludge into the marine park.


You urge GBRMPA, as the guardians of our reef, to reject this permit and ensure that the Reef is protected for future generations. The Great Barrier Reef should not be a dumping ground for industry.


You are worried that the Minister has granted permission to dump in the reef, even though the specific location in which dumping can occur remains open to further investigation. If GBRMPA does not know the specific dump site then it is surely impossible for you to scientifically identify the implications for the Reef and therefore you must reject this permit.


Tourism from the reef is worth $6.4 billion and creates 64,000 jobs.
Email GBRMPA
Use this form to contact the Great Barrier Reef Marine Park Authority. Not sure what to say? Find a couple of talking points on the left!