SIGN NOW: Raise the Rate!
A recent shocking report claims that former Social Services Minister Paul Fletcher intervened on the eve of the Federal election to
erase a bipartisan recommendation to increase Newstart
.
1
It's clear that the Morrison government is under
massive
pressure to increase the Newstart payment – even from their own allies.
Everyone from John Howard, Barnaby Joyce and the Business Council of Australia agree it needs an immediate increase.
2,3,4,5
The Coalition government are running out of excuses to ignore the growing call for compassion – to ensure everyone has enough money to put food on the table, and keep a roof over their head and stay warm during winter.
After 25 long years, we need to seize on this critical moment with a massive show of public support that will keep Newstart in the media cycle over the coming Parliamentary sitting period.
Can you sign the petition calling on our politicians to unconditionally raise the rate of Newstart immediately and demand for a social safety net we can be proud of?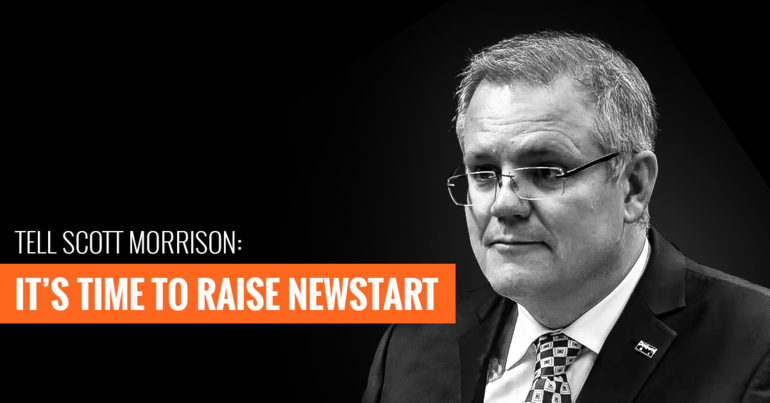 People locked out of paid work have to survive on just $40 a day. That's $39 to cover groceries, medication, clothing, electricity, and rent.

In a recent nationwide survey of 67,000 rental properties, Anglicare Australia found only three properties were affordable for a single person reliant on Newstart.2 People can't be expected to find paid work, if they can't even afford to keep a roof over their heads.

This is in part because Newstart hasn't been adjusted to keep up with inflation in 25 years.

Meanwhile, corporate profits have soared, the costs of living have grown, and conservative governments have continued to weaken our social safety net.
Groups and representatives from across the political spectrum are now calling for an increase to Newstart, including The Australian Council of Social Services (ACOSS), Australian Council of Trade Unions (ACTU), St Vincent de Paul, The Salvation Army, The Anti-Poverty Network, the Australian Unemployed Workers Union (AUWU), and Anglicare.

The governor of the Reserve Bank agrees an increase in Newstart would be good for the economy. Even former Liberal leaders like John Howard and John Hewson agree the rate of Newstart is too low.
The Greens, Andrew Wilkie, and Centre Alliance are all calling to raise Newstart.

While Labor leadership are refusing to back an increase to Newstart, people of conscience across the back bench have been raising their voices to demand the party take a stronger stand.

The Coalition government has rejected the idea of reinforcing our social safety net, and have pushed forward a tax plan that puts banking executives in the same tax bracket as trainee apprentices.6 But prominent party elders like former Prime Minister John Howard, and former Deputy Prime Minister Barnaby Joyce have now joined the call for an increase to the rate.

In the second wealthiest country in the world, poverty should not be a partisan issue. We have the means to raise Newstart, what we lack is the political will.
References:
[1] "Push to lift Newstart 'erased' before election", Sydney Morning Herald, 23 July 2019
[2] "Scott Morrison hits out after Barnaby Joyce calls for Newstart payment increase", Daily Telegrah, 18 July 2019
[3] "Two Liberal backbenchers urge dole rise", The In Daily, 22 July 2019
[4] "Barnaby Joyce joins calls to increase Newstart allowance", ABC, 19 July 2019
[5] "'Freeze has gone on too long': John Howard calls for dole increase", Sydney Morning Herald, 9 May 2018

SIGN THE PETITION: IT'S TIME TO RAISE NEWSTART!
To Prime Minister Scott Morrison:
People locked out of paid work should never struggle to put food on the table, or be forced to live in poverty.

We demand you unconditionally raise the rate of Newstart, and build a social safety net we can be proud of.
---
---
31,052 signatures
---
In taking action, I agree to GetUp's Privacy Policy.