Call for a Liberal free vote on marriage equality!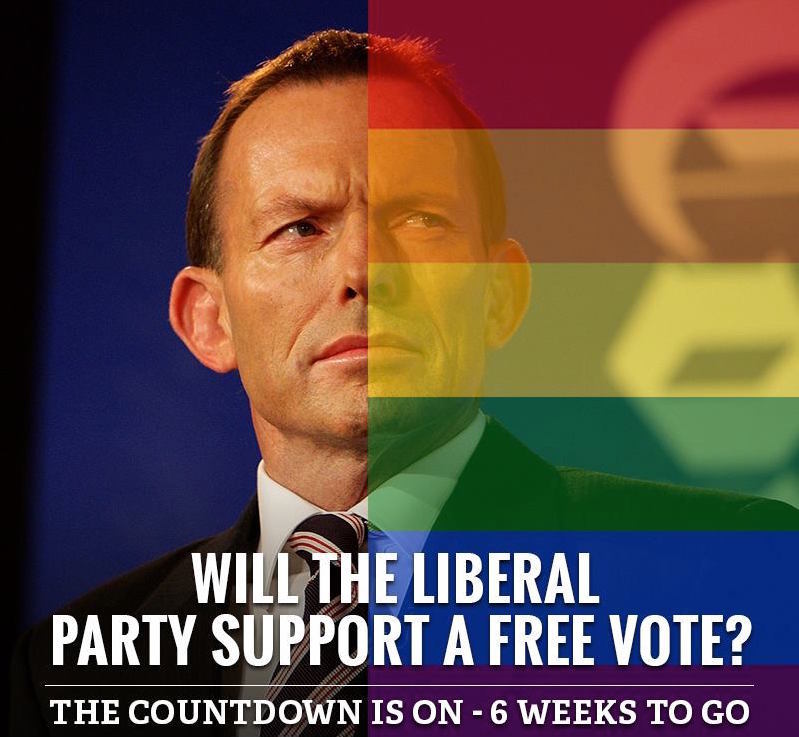 It's crunch time.
In August, Liberal MPs Warren Entsch and Teresa Gambaro will put a co-sponsored private members bill for marriage equality before parliament,
1
but whether it can be debated will hinge on whether Prime Minister Tony Abbott allows his party a conscience vote.
2
We have six weeks to force a conscience vote --
just six weeks to capture the momentum of a decades-long campaign and to finally end marriage discrimination.
Across the world, there has never been a stronger mandate for marriage equality than the overwhelming public support from Australians. But, as it stands, the support in our communities isn't, and can't be reflected within our Parliament by any Liberal MPs or Senators.
The only way for the wishes of 72% of Australians to be truthfully represented by our elected leaders is if Prime Minister Abbott allows his party to vote on the issue with their hearts, and with their minds.
Will you call on Abbott to allow a free vote on same-sex marriage?
References
[1] 'Same-sex marriage: Coalition MPs Warren Entsch, Teresa Gambaro to co-sponsor private member's bill',
ABC news
, 2nd July 2015
[2]'Tony Abbott to defy unity push on same sex marriage',
The Australian
, 2nd July 2015
SIGN THE PETITION!
If Liberal Party politicians are allowed to vote freely on marriage equality, they will have the opportunity to listen to their electorate and represent their values fairly and truthfully.

Prime Minister Abbott, please allow your party a free vote on the issue of marriage equality.
---
---
In taking action, I agree to GetUp's Privacy Policy.