✍️ URGENT: Protect our environment laws!
The Morrison Government is introducing legislation that would butcher our Environmental Protection Laws this week.1

Can you urgently demand your Coalition MP or Senator defend these essential laws and adhere to the findings of the independent review?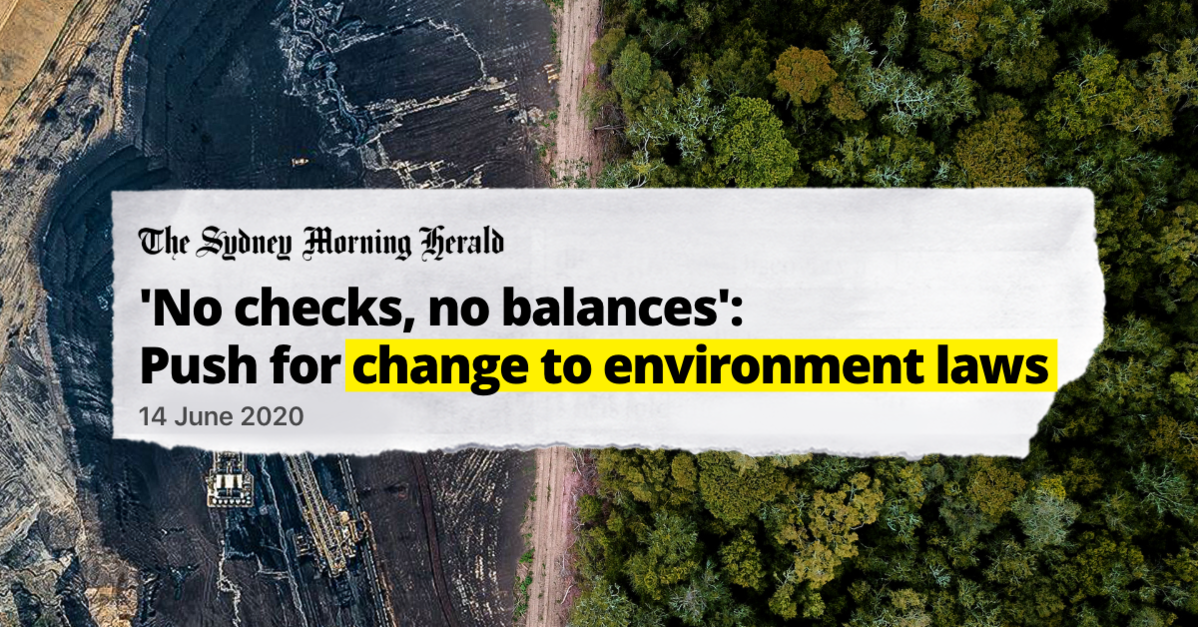 References:
[1] 'Fears over Morrison's plan for 'single touch' environmental approvals',
SMH
, 15 June 2020
[2] 'Submission to the second independent review of the Environment Protection and Biodiversity Conservation Act 1999', Wilderness Society, April 2020
To ensure your email is most effective try and include these points -

Introduce yourself: MPs will be far more receptive if they know you're a constituent. Tell them a bit about yourself! Which area do you live in? What do you do?

Tell your MP why this issue matters to you: What does the environment mean to you? How does it contribute to your life? How important is it to you that environmental protection laws are strengthened?

Demand your MP take action: It is very important your message has an ask. Make it quite clear that you believe the our environmental protection laws should be strengthened, not bypassed.
The Environment Protection and Biodiversity Conservation Act 1999 (EPBC) is the key piece of environmental legislation in Australia. It regulates any activity that will have an impact on environmental values, including protection of native flora and fauna species, world heritage areas, national and marine parks, and water resources.

Source: The EPBC Act Review 2020, Environmental Defenders Office
The Environment Protection and Biodiversity Conservation Act 1999 (EPBC) is currently undergoing its 10-year statutory review into how effectively it has been operating and whether it requires any changes. The review was initially created due to environment laws being too weak to provide adequate protection for Australian wildlife, leading to an extraordinarily high extinction rate. Too many development projects were being approved and having adverse consequences on particular species and ecosystems. Submissions to the review have recently closed, and the first draft of the report will be handed down in June, 2020. The final draft will be released in October, 2020, with initial report due mid-late June 2020.

The Government recently announced it would look into changing the EPBC before the final report is released. Brendan Sydes, the Chief Executive of Environmental Justice Australia, raised concerns about what these potential changes might mean, stating "we really need to have a focus on the objectives the act is attempting to achieve, rather than streamlining and processes."2 It is important the proper review process is followed so that any changes are in line with the recommendations in the final report – or we risk our environmental laws being weakened.

References:
[1] The EPBC Act Review 2020, Environmental Defenders Office
[2] 'Coalition is aiming to change Australia's environment laws before review is finished', The Guardian, 23 April 2020
Contact your MP or Senator now
Draft your email where it says 'Write your message here'. 👇

Wondering what to include? Check out the blue talking points!